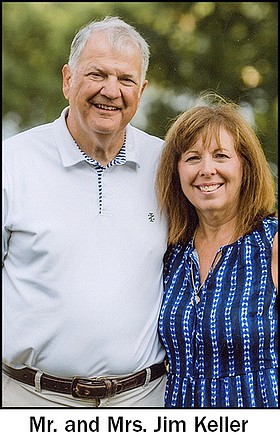 Anniversary
Jim Keller & Patti Keller
November 4, 1977
Mr. and Mrs. Jim Keller, Jefferson City, will celebrate their 45th wedding anniversary with a trip to Chesapeake Bay, Md. in November.
Jim Keller and Patti Fesler were married Nov. 4, 1977, at Holy Redeemer Catholic Church, Barry, Ill. Rev. Frank Westoff officiated. They were attended by John Keller, Tampa, Fla.; Julian Rodriguez, Franklin, Tenn.; Gary Uhland, Warsaw, Ill.; Jean Ward, West Des Moines, Iowa; Debbie Charvat, Quincy, Ill.; and Eileen Dyall, St. Louis.
Mr. and Mrs. Keller have four children: Jacque Parrack and her husband Brad Parrack, Overland Park, Kan.; Nolan Keller and his wife Amanda Keller, Wildwood; Heidi Remmert and her husband Justin Remmert, Overland Park, Kan.; and Tori Tannehill and her husband Ryan Tannehill, Overland Park, Kan. They also have eight grandchildren: Tristan Parrack, Mia Parrack, Peter Keller, Harper Keller, Neva Keller, Charles Remmert, Matthew Remmert, and Nicholas Remmert.