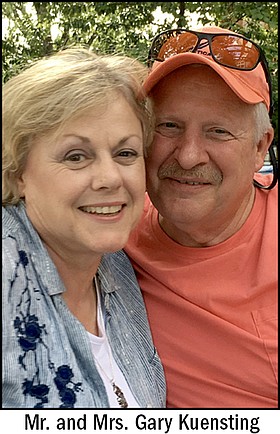 Anniversary
Gary Kuensting & Kelley Bergman
October 9, 1982
Mr. and Mrs. Gary Kuensting, Jefferson City, celebrated their 40th wedding anniversary with a trip to Myrtle Beach, S.C.
Gary Kuensting and Kelley Bergman were married October 9, 1982, at Capital City Christian Church, Jefferson City. Gary Baker performed the ceremony. They were attended by Sue Logston, Jefferson City; Tracy Choisser, deceased; Denni Perry, Holts Summit; Deb Wideman, Festus; Daryl Luecke, deceased; Mike Scheulen, deceased; Gus Epple, Jefferson City; and Jerry Rost, Overland Park, Kan.
Mr. and Mrs. Kuensting have one child: Suzanne Kuensting, Memphis, Tenn.