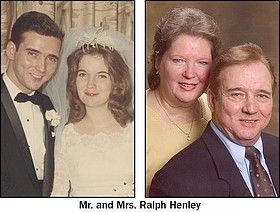 Anniversary
Ralph Henley & Phyllis Henley
October 15, 1967
Mr. and Mrs. Ralph E. Henley Jr., Kansas City, celebrated their 55th wedding anniversary with a dinner with family and friends at Civil Center, California, hosted by their children.
Ralph E. Henley Jr. and Phyllis D. Funk were married October 15, 1967, at Broadway Methodist Church, Kansas City. Dr. Ross Fulton officiated. They were attended by Sharon Funk, Kanas City; Terri Henon, Kansas City; Staon Qunn, Overland Park, Kan.; Gene Henon, Rayton; and Kenneth Mosley, Kansas City.
Mr. and Mrs. Henley have two children: John C. Henley, California; and Timothy S. Henley and his wife Camelle Henley, St. Louis. They also have two children: Maryanne E. Henley and Mathew S. Henley.