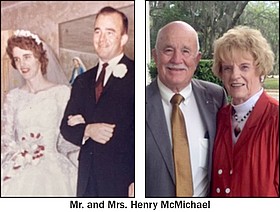 Anniversary
Henry McMichael & Myrtle McMichael
October 20, 1962
Mr. and Mrs. Henry McMichael, Holts Summit, will celebrate their 60th wedding anniversary with a Mass on their special day and will also be taking a trip to Gulf Port.
Henry McMichael and Myrtle Marie DeBrine were married October 20, 1962, at Immaculate Conception Church.
Mr. and Mrs. McMichael have five children: Steve McMichael (Angie), Dena Jaegers (Lee), Kristina Schwant (Scott), Catrina McMichael, deceased; and Jim McMichael (Dawn). They also have 10 grandchildren: Tyler Jaegers, Maggie Wheeler, Collin Jaegers, Emily McMichael, Aaron McMichael, Devin Jaegers, Austin McMichael, Gavin Schwant, Addi McMichael, and Payten Schwant.