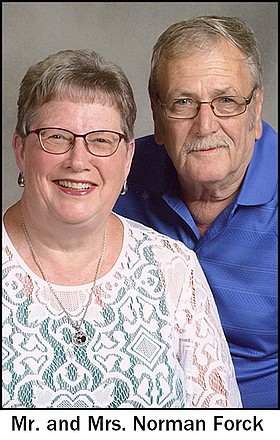 Anniversary
Norman Forck & Brenda Forck
April 13, 1973
Mr. and Mrs. Norman R. Forck, Jefferson City, will celebrate their 50th wedding anniversary with a trip to the Grand Canyon in June.
Norman. R. Forck and Brenda K. Kliethermes were married April 13, 1973. They were attended by Phil Heislen and Karen Heislen, both of Jefferson. City.
Mr. and Mrs. Forck have three children: Brent Forck and his wife Lisa Forck, Olathe, Kan.; Robbie Forck and his wife Andrea Forck, Jefferson City; and Curtis Forck and his wife Teri Ann Forck, Jefferson City. They also have eight grandchildren: Krysta Forck, Hunter Forck, Connor Forck, Archie Forck, Griffen Forck, Easton Forck, Aubrey Forck, and Lauren Hope Forck, deceased.