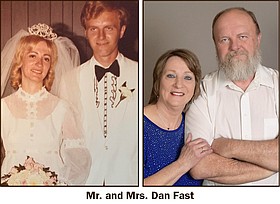 Anniversary
Dan Fast & Betty Fast
August 11, 2023
Mr. and Mrs. Dan Fast, Jefferson City, recently celebrated their 50th wedding anniversary.
Dan Fast and Betty Groner were married August 11, 1973, at St. Paul's Church, Berger. Fr. Gasper Meyer, OFM, officiated. They were attended by Carol Schaefer, Theresa Groner-Davis, Tessie Guymon, Jack Voight, Bob Groner (deceased), and Harold Wolken.
Mr. and Mrs. Fast have four children: Ray Fast and his fiancée Vickie Hickerson, Centertown; Tom Fast, Jefferson City; Jerry Fast, Columbia; and Emily Pointer and her husband Andrew Pointer, Taos. They also have five grandchildren: Abigail Mathis, Taylor Fast, Somer Fast, Nolan Pointer, Trenton Pointer; and two great-grandchildren: Noah Mathis and Rylee Fast.