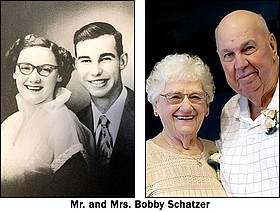 Anniversary
Bobby Schatzer & Marilyn Schatzer
July 22, 2023
Mr. and Mrs. Bobby L. Schatzer, Latham, celebrated their 70th wedding anniversary July 22 with a gathering at California Eagles Aerie 4027, hosted by their eight children.
Bobby L. Schatzer and Marilyn L. Hoefener were married July 25, 1953, at the bride's parents home in Latham. The Rev. J.L. Freeman officiated. They were attended by Geraldine Maier and Harlan Hoefener, both deceased.
Mr. and Mrs. Schatzer have eight children: Raymond Joe and his wife Pam, Versailles; the late Bobby Gene and his wife Shelbie, Latham; Ronny Dean, California; Richard Lee and his wife Nancy, California; Sharon Kaye and her husband Dale Niekamp, Loose Creek; Karen Louise and her husband Rick Messerli, California; the late Michael Wayne; and Roberta Lynn and her husband Randall Gunnerson, Latham. They also have 22 grandchildren, 31 great-grandchildren and one great-great-grandchild.