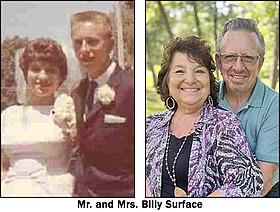 Anniversary
Billy Surface & Elaine Surface
August 19, 2023
Mr. and Mrs. Billy Surface, Lohman, celebrated their 60th wedding anniversary August 19 with a dinner, hosted by their children and grandchildren.
Billy Surface and Elaine Meller were married August 3, 1963, in Tuscumbia. They were attended by Melba (Meller) Knernschield, Jefferson City; and Hilton Knernschield, Jefferson City.
Mr. and Mrs. Surface have three children: Tammy Schnieders and her husband Ron Schnieders, Jefferson City; Billy Don Surface and his wife Vicki Benz, Lohman; and Kim Fischer and her husband Jay Fischer, Jefferson City. They also have four grandchildren: Brittany Taggart, Chelsea Green, Cassidi Knierim, Jena Fischer; and three great-grandchildren: Christian Poynter, Bristol Green, and Landrie Knierim.