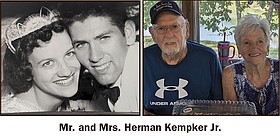 Anniversary
Herman Kempker & Marilyn Kempker
August 23, 2023
Mr. and Mrs. Herman C. Kempker Jr., Jefferson City, celebrated their 65th wedding anniversary in June with a barbecue celebration with their large family at their family farm lake. An anniversary blessing was received today, August 27, at the Cathedral of St. Joseph.
Herman C. Kempker Jr. and Marilyn T. Schmidt were married August 23, 1958 at Immaculate Conception Church, Jefferson City. Reverend Kurtz officiated. They were attended by Laurentia Kempker Wenzel, Betty Dwight Otto, Yovetta Wansing Werner, Al Schmidt, Anthony Kempker (deceased) and Leonard Kempker.
Mr. and Mrs. Kempker have seven children: Pam Buschjost of Wardsville, Sandy Kempker of Taos, Gary Kempker and his wife Mary Kay of Jamestown, Sharon Kempker of Jefferson City, Gregg Kempker and his wife Robin of Westphalia, Trish Rockers and her husband Phil of Jefferson City, and Curt Kempker and his wife Melissa of Jefferson City.
They also have 21 grandchildren, which includes Audrey and Brody, two special angels in heaven, 25 great-grandchildren and one more on the way in March 2024.