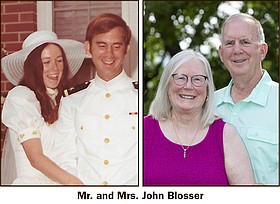 Anniversary
John Blosser & Cynthia Blosser
June 18, 2023
Mr. and Mrs. John Blosser, Jefferson City, celebrated their 50th wedding anniversary the week of June 18 with a family trip to Branson, hosted by the couple.
John Blosser and Cynthia Odor were married June 3, 1973, at First Christian Church, Columbia. Rev. Eldon Drennan officiated. They were attended by Jim Blosser, Jefferson City; Scott Snyder, Jefferson City; Cayte Odor Stevenson, Columbia; and Marty Blosser Roberts, Jefferson City.
Mr. and Mrs. Blosser have three children: Sarah Blosser Blackwell, Charlotte, N.C.; Joseph Blosser, High Point, N.C.; and Rebecca Blosser Atkins, Columbia. They also have eight grandchildren.