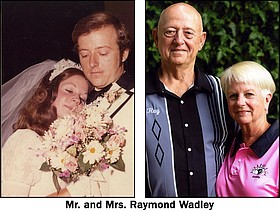 Anniversary
Raymond Wadley & Sandra Wadley
July 29, 2023
Mr. and Mrs. Raymond Wadley, Fulton, celebrated their 50th wedding anniversary July 29 with a reception at Strikers (the old West Gate Lanes) where the couple first met, hosted by their children. They will also celebrate with an Alaskan cruise in August.
Raymond Wadley and Sandra Case were married July 28, 1973, at First Christian Church, Jefferson City. Rev. Roy Griggs officiated. They were attended by Sue Case Ash, Holts Summit; Gail Barnes Bise, Holts Summit, Patty Wells Puckett, Columbia; Debbie Hayden, Jefferson City; Steve Wadley, Lake Ozark; Frank Bise, deceased; Jerel Scott, Lake Ozark; and John Utrecht, Jefferson City.
Mr. and Mrs. Wadley have two children: Megan Wadley Richmond and her husband Andrew Richmond, Jefferson City; and Nathan Wadley, Philadelphia, Pa. They also have one grandchild, Elena Wadley.