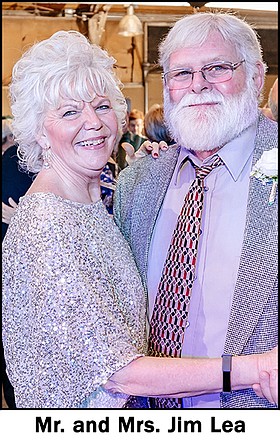 Anniversary
Jim Lea & Kathy Lea
June 17, 2023
Mr. and Mrs. Jim Lea, Brazito, celebrated their 40th wedding anniversary June 17 with a pirate ship excursion and lunch at Jolly Roger's at Lake of the Ozarks, hosted by the couple.
Jim Lea and Kathy Kempker were married July 16, 1983, at the VFW Hall, Eldon. They were attended by David Lea, Springfield; Dianna Barb-Harrison, Eldon; Doug Matthews, Henley; Brian Matthews, Liberty; and Julie Oligschlaeger, deceased.
Mr. and Mrs. Lea have four children: Doug Matthews and his wife Dawn, Henley; Brian Matthews, Liberty; Grant Lea, Jefferson City; and Angie Burden and her husband Justin, Winfield, Kan. They also have nine grandchildren: Tavia Dickerson, Samantha Matthews, Addison Matthews, Cailin Matthews, Brianna Matthews, Kate Matthews, Lydia Matthews, Jace Burden, and Lane Burden.