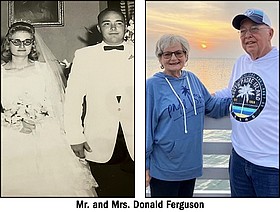 Anniversary
Donald Ferguson & Linda Criswell
June 18, 2023
Mr. and Mrs. Donald Ferguson, Jefferson City, celebrated their 60th wedding anniversary with a reception and dance at the Meadow Lake Acres Country Club, hosted by their family.
Donald Ferguson and Linda Criswell were married June 16, 1963, at New Bloomfield Methodist Church, New Bloomfield. Rev. Jerry Anderson officiated. They were attended by Richard Ferguson, Jefferson City; Tom Criswell, deceased; Don Trammell, deceased; Evelyn (Criswell) Thomas, New Bloomfield; Wanda (Thomas) Gaunt, Macon; and Carla Sue (Link) Grant, Anabel.
Mr. and Mrs. Ferguson have two children: Cris Ferguson and his wife Margie Ferguson, Hudson, Fla., and Nicole Hoff and her husband Ivey Hoff Jr., Jefferson City. They also have five grandchildren: Hunter Ferguson, Savannah Christian, Samuel Hoff, Alex Urbani, and Sophia Urbani.