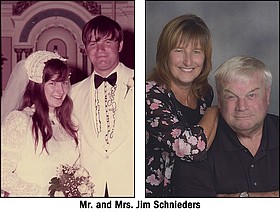 Anniversary
Jim Schnieders & Roberta Schnieders
June 18, 2023
Mr. and Mrs. Jim Schnieders, Jefferson City, will celebrate their 50th wedding anniversary with a dinner hosted by their family.
Jim Schnieders and Roberta Gratz were married June 23, 1973, at St. Francis Xavier Catholic Church, Taos. Father William Flanagan officiated. They were attended by Ruby Radmacher, Taos; Sharon Raithel, Koeltztown; Brenda Forck, Taos; Nancy Gratz, Wardsville; Paula (Schnieders) Eynard, Jefferson City; Chester Sieg Jr., deceased; Mark Schnieders, deceased; Bob Philbert, deceased; Bill Gratz, Wardsville; and Kenny Philbert, Taos.
Mr. and Mrs. Schnieders have two children: Tina Paschal and her fiancé Scott Kilgore, Taos, and Scott Schnieders and his wife Shawna, Taos. They also have four grandchildren: Ryan Paschal, Blake Paschal, Chase Schnieders, and Riley Schnieders.