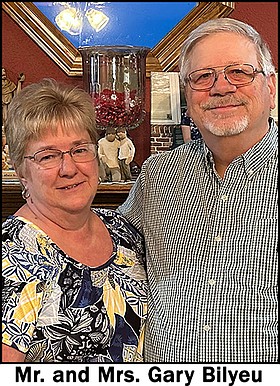 Anniversary
Gary Bilyeu & Carol Bilyeu
May 19, 1973
Mr. and Mrs. Gary Bilyeu, Wardsville, celebrated their 50th wedding anniversary with a family dinner at Steve's Family Style Restaurant, hosted by their family.
Gary Bilyeu and Carol Ann Boessen were married May 19, 1973, at St. Thomas Apostle Church, St. Thomas. Rev. Sullivan officiated. They were attended by Jane (Herigon) Bax, St. Elizabeth; Carolyn Kliethermes, Eldon; Rose (Boessen) Bax, Linn; Leroy Rehagen, St. Elizabeth; Leon Buschjost, St. Elizabeth; and John Boessen Jr., St. Thomas.
Mr. and Mrs. Bilyeu have six children: Michelle Abbott and her husband Steve, Wardsville; Melanie Anthony and her husband Colin, St. Martins; William Bilyeu, Michael Bilyeu, and Catherine Bilyeu, all deceased. They also have four grandchildren: Gage Abbott, Stella Anthony, Nora Anthony, and Theo Anthony.