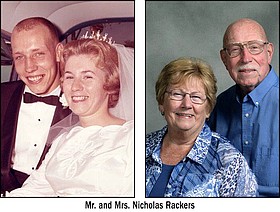 Anniversary
Nicholas Rackers & Rosalie Rackers
September 7, 2023
Mr. and Mrs. Nicholas J. Rackers, Taos, are celebrating their 60th wedding anniversary today with a Mass, family breakfast and open house at St. Francis Xavier School, hosted by their children.
Nicholas J. Rackers and Rosalie M. Talken were married September 7, 1963, at St. Francis Xavier Catholic Church, Taos. Msgr. Gerald Poelker officiated. They were attended by Mary Jo Broderick, St. Louis; Ann McClain, Westphalia; Agnes Viet, New Bloomfield; Charles Rackers, California; Ralph Viet, New Bloomfield; and Tony Rackers, Jefferson City.
Mr. and Mrs. Rackers have four children: Tammy Sachse and her husband Rob, Taos; Cindy Remmert and her husband Paul, Jefferson City; Brad Rackers and his wife Traci, Taos; and Travis Rackers, Taos. They also have 12 grandchildren: Justin Remmert, Megan Remmert, Elizabeth Newbold, Austin Sachse, Nolan Sachse, Braden Remmert, Halie Rackers, Ethan Rackers, Hannah Rackers, Isaac Rackers, Jaden Rackers, Ava Rackers; and six great-grandchildren: Charles Remmert, Matthew Remmert, Nicholas Remmert, Margaret Remmert, Genevieve Remmert, and Mia Newbold.