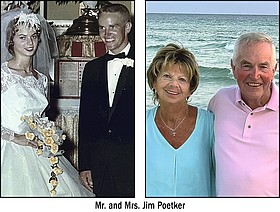 Anniversary
Jim Poetker & Karen Poetker
September 7, 2023
Mr. and Mrs. Jim Poetker, Jefferson City, celebrated their 60th wedding anniversary Saturday with an anniversary blessing by Very Rev. Jason Doke at Mass at St. Martins Catholic Church, and with a family dinner, hosted by their children and grandchildren. They also celebrated with a family vacation to Florida.
Jim Poetker and Karen Bernskoetter were married September 7, 1963, at Immaculate Conception Church, Jefferson City. Msgr. Gerald Kaiser officiated.
Mr. and Mrs. Poetker have three children: Cindy Bentlage and her husband Kent, Cathy Francka and her husband Brian, and Jason Poetker. They also have seven grandchildren: Caitlin Claspill, Jared Bentlage, Baylee Gerstner, Luci Rockers, Carissa Bentlage, Justin Francka, Josie Francka; and five great-grandchildren: Avery Claspill, Aspen Claspill, Etta Gerstner, Ainsley Claspill, and Kolbe Rockers.