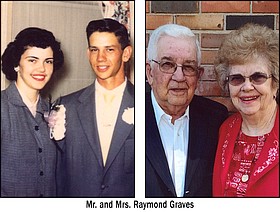 Anniversary
Raymond Graves & Mary Graves
September 12, 2023
Mr. and Mrs. Raymond Graves, Eldon, celebrated their 70th wedding anniversary with a trip to Branson.
Raymond Graves and Mary Warren were married September 12, 1953, in Tuscumbia. They were attended by James Robert and Wanda Wright, Glen and Wilma Warren, and Walter and Oma Graves.
Mr. and Mrs. Graves have four children: Randy Graves and his wife Iris, Colleyville, Texas; John Graves and his wife Marena, Eldon; Mike Graves, Eldon; and Christy Graves, deceased. They also have three grandchildren and four great-grandchildren.