Photo Gallery
Locals gather to remember, mourn double homicide victims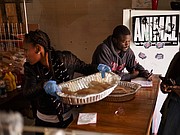 OVER THE YEARS1957 -- Traffic on McCallie Avenue and East Ninth Street is converted from two- way to one-way.1973 -- South Central Bell Telephone Co. building is erected. It's later renamed the AT&T Building.1981 -- East Ninth Street is renamed Martin Luther King Jr. Boulevard in honor of the slain civil rights leader.1986 -- Bessie Smith Strut begins as part of Riverbend Festival.1997 -- The $4.1 million Bessie Smith Hall and the Chattanooga African-American Museum open.2000 -- UTC opens Community Outreach Partnership Center in the former Church's Chicken property. The HUD-funded center operates until 2007.2001 -- First phase of UTC Place Apartments opens.2002 -- Brown Academy opens.2002-05 -- MLK Tomorrow partnership with Lyndhurst Foundation and Chattanooga Neighborhood Enterprise helps to finance or build and renovate more than 100 homes in the M.L. King neighborhood.2003 -- Two-way traffic is restored on M.L. King Boulevard and McCallie Avenue.2007 -- $2.7 million Renaissance Square residential and commercial condominium is completed.2009 -- City planners release the most recent development plan for the boulevard.
For 30 years, M.L. King Boulevard has been poised to become Chattanooga's next hot area.
Ask one area leader and the boulevard could become like Beale Street in downtown Memphis, full of nightclubs and tourist attractions capitalizing on the strip's rich music history.
Ask another, and MLK is just a few new businesses away from being the local version of Cumberland Avenue bordering the University of Tennessee in Knoxville, connecting students to the community at large.
But after decades of hopes, plans and investments, the thousands who visit the boulevard for Monday's Bessie Smith Strut might wonder why they see mostly empty lots, run-down buildings and vacant retail space.
"I'm wondering the same thing," said Al Jackson, former president of the M.L. King Merchants Association. "It's like you're at the starting line and the gun goes off, but none of the runners want to take off."
Area leaders point to a number of stumbling blocks that have slowed MLK growth while neighboring areas such as Main Street and Frazier Avenue sprint past.
Some of the boulevard's landowners want to guide their land's use toward what's best for the community rather than risk selling it. Crime problems of the 1970s and '80s still color perceptions of the street today.
Others point to a lack of cohesive leadership, leaving too much uncertainty for developers to invest in the site.
But over the past decades those problems have been addressed, leaving many MLK community members hopeful for the future and confident the boulevard's time finally has arrived.
LIVELY PAST
"The people who own those buildings are in my age range," said Moses Freeman, 73, a longtime community leader who has watched M.L. King morph from the lively center of Chattanooga's black community to a notorious crime area to a vacant strip, seemingly always on the cusp of something big.
"We've got all this garbage that's in our heads about the past, and we also want to be treated fairly," Freeman said.
Long before it was M.L. King Boulevard, the road was Ninth Street, known as "Big Nine." Separate but equal was the prevailing law of the South, and black-owned retail shops, offices and entertainment venues were clustered on the strip.
The area thrived with its captive audience. But then businesses began opening their doors to all races and changes in traffic patterns put the boulevard at a disadvantage, and commerce eventually died off.
Richard Williams has owned businesses on Market Street for more than 50 years and now owns Memo's restaurant and most of the block it sits on.
Over the years he's had plenty of offers from developers looking to buy the property and business owners looking for a spot on MLK, but Williams tries to look at the long-term costs and benefits each offer would have on the community. He knows the right plan will come along; he just wants to make sure he's getting the right grants and finding the appropriate businesses to bring the community back to the days of the Big Nine.
"We're trying to not just do one block; we're trying to arrange some things so it'll look better for the whole area," he said. "We want it to be a benefit to the whole city."
He, Jackson and other landowners along the strip want to see their long-established family businesses continue and guide the future of the area. Several of the buildings along MLK have been owned by the same families for decades. Now that interest is slowly returning, those owners want to make sure they're positioning the boulevard for the best, most explosive growth.
"The feeling is we've always been forced to leave money on the table." Freeman said. "The characteristics of the average owner on MLK Boulevard are quite different form the characteristics of the average developer."
Business owners want to locate on the street. Several property owners have talked with restaurateurs and other concepts looking for a place on the boulevard, but haven't found a financial fit.
Starr Bradley-Bumpass, owner of Caché Hair Efx salon, has leased space on MLK for five years. She already has moved from one space to a larger one down the street to accommodate growth, and she plans to convert the next-door office space to a salon by the end of summer. Bradley-Bumpass said she would like to buy her own space so she can stop paying rent, but landowners aren't offering a price she can meet.
"It's real, real expensive," she said. "They're seeing that this street is building up, and they're trying to get the most money they can for it."
But property owners seem to be willing to play ball, according to Kim White, head of downtown development group River City Co. She recently met with landowners and other community leaders to figure out the best way to get business going on the boulevard.
"The important thing is that conversations are now starting again, and we can just see where that leads," she said. "It's just trying to figure out who does what."
Business developers have come together in the past, but little development has taken place. Most recently, $2.7 million was spent on the mostly empty, still unfinished Renaissance Square mixed-use development.
The community development corporation behind the project filed for bankruptcy, and the property was repossessed by Regions Bank last year.
A far cry
The idea that M.L. King Boulevard could return to the glory of the Big Nine is a fairly new concept. Longtime Chattanooga residents recall a street rife with drinking, drugs and fights, a far cry from what it is today.
"That image still sticks with some of the city," said Carmen Davis, curator and programming director at MLK's Bessie Smith Cultural Center who grew up in the area more than 30 years ago. "When I was a kid it was an area you didn't go to."
Some of the boulevard's business owners said that perception has slowed the Chattanooga community from embracing the district, though they're all betting their business that those perceptions are wrong.
And they're not the only ones making that claim.
"If there's a perception, it's a shame because I just don't see it being a crime area," said Chattanooga police Lt. Eric Tucker, who oversees the downtown area. "I would have no other fear if I was there than on the Riverfront or the North Shore."
Tucker has been policing the M.L. King area for 25 years. He remembers the days of regular drug busts and violence, but today would never call it a dangerous area.
"It's completely different than what it was in 1987," he said.
Chattanooga Mayor Ron Littlefield questioned the safety of M.L. King Boulevard's biggest event, the Bessie Smith Strut, earlier this year. Concerns about gangs and violence nearly ended the 26-year-old festival, but leaders throughout the Chattanooga community fought for the celebration of blues music and managed to keep the Strut alive.
Several M.L. King community leaders said the conflict ultimately helped the area. The issue united leaders from several communities under the idea that the area is safe and the Strut worth saving.
"There are a lot of people in the community who really value what the Strut represents, not only for the M.L. King community but for the community at large," said Cecil Drake, owner of the properties at 734 and 736 M.L. King Blvd. "It ended up being a net positive effect, drawing some attention to the area and getting people thinking about growth."
M.L. King still faces challenges. The nearby Chattanooga Community Kitchen attracts a large homeless population and the typical panhandling, loitering and petty theft problems that typically follow, Tucker said.
"There's no question it's a neighborhood that's still in transition and there's still work to be done," he said. "But it's a neighborhood that, in my opinion, still has a lot of potential."
Differing visions
Few can agree on what that potential is.
"There's a great deal of confusion about what is going to go there. That's the No. 1 barrier," Freeman said. "In the development business, it's risky making an investment in an area where you don't know what it will become."
Since the '80s, nearly 25 community plans have addressed what the area should become and how it should get there.
The most recent 100-plus-page plan took a year and a half to create before its release in 2009. But the grocery store, large recreation parks, streetlights and retailers the plan called for are no closer to realization today.
And area stakeholders hold a range of views on how the street should develop.
"You have people like Billie Holiday and James Brown who all performed here," Davis said. "I would love to have more clubs that do jazz or blues and keep the heritage going."
The success of performance venues such as Davis' Bessie Smith Cultural Center and J.J.'s Bohemia lend some credence to the idea.
Others believe businesses follow residents and want to see the neighborhoods on the boulevard's east end grow. Then groceries, drugstores and professional offices can follow.
"Everything has to be targeted toward what is best for the residential community," Drake said. "There's a lot of potential for it to be a real nice, thriving residential and business community, just like the Main Street area."
Housing has been one of the area's successes. Freeman built a six-home development off the boulevard and sold all the houses before they were finished.
The University of Tennessee at Chattanooga and the Lyndhurst Foundation offered up to $15,000 in incentives for each full-time faculty and staff member looking to buy a home in the M.L. King neighborhood.
For some business owners, the university's students have had an even larger effect than the school itself. Restaurants such as Champy's Famous Fried Chicken and Chatt Smoke House thrive in part because 2,000 college kids live just a five-minute walk away.
"We really thrive off the campus. It's an untapped market down here," said Durand Wiley, who has cut hair at Blue Boys Barber Shop and Beauty Salon for 10 years. "You could pretty much open anything and have it be successful with the school right there. You can let your imagination run wild."
The student presence on the strip is only going to get larger. The university started conversations with neighborhood leaders 10 years ago when it started its expansion planning. No plan has been finalized, but school officials expect to increase enrollment as high as 18,000 students, up from 11,500 in the past school year.
Several of those students could end up living in proposed dorms sitting right on M.L. King.
UTC's chief financial officer, Richard Brown, hopes to see businesses spring up along the boulevard that will serve that student population, much like Cumberland Avenue grew to serve the university at Knoxville.
"I want it to be much better than Cumberland," Brown said. "We're at a very unique point in time and we have a tremendous opportunity."
When the state approves a university growth plan, Brown plans to push community, business and government leaders to come together and unite their visions of the boulevard's future. He has worked closely with them all in the past, and he's confident this time that their planning will lead to action.
"I call it reigniting the planning energy," Brown said. "All of that is not lost. We've just got to go back now and create a strong vision and strong plan and figure out how to implement it."
But 30 years of planning have yet to move the street forward, and leaders can't say whether the coming years will bring that new growth or simply continue the unfulfilled promises of the past.