Photo Gallery
Studio formed to elevate downtown design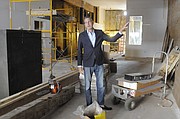 After Georgia tailback Keith Marshall and receiver Justin Scott-Wesley were taken by cart from the Neyland Stadium turf Saturday afternoon, Bulldogs coach Mark Richt confirmed the expected Sunday.
Marshall and Scott-Wesley tore their right anterior cruciate ligaments during the 34-31 overtime win over Tennessee and are out for the season. Another receiver, Michael Bennett, injured his right knee and will have it scoped Tuesday.
Bennett will not play this week when the No. 7 Bulldogs host No. 25 Missouri, adding to the bittersweet feeling still emanating from Knoxville.
"It's just sad for our players," Richt said. "You see them work so hard to get in position to play for Georgia and realize their dreams of playing in big games like that and to try and win championships and all that. You see how much work they've put in and how hard they play for you and practice for you in the offseason, and in one play it just gets taken away from them.
"It's heartbreaking, and I don't know which hurts more, the pain of the injury or the pain of knowing you're not going to get to play any more for a while."
Marshall is Georgia's second-leading rusher, having gained 246 yards and scored a touchdown on 56 carries. Scott-Wesley is the team's second-leading receiver with 16 catches for 311 yards and two touchdowns.
Scott-Wesley's 85-yard touchdown reception with 13 minutes remaining enabled Georgia to put away South Carolina 41-30, and his 25-yard scoring catch against LSU with 1:47 left was the difference in the 44-41 win over the Tigers.
"Those guys are my brothers, and I never want to see anything happen like that," receiver Rantavious Wooten said Saturday. "It's part of football, though, and we are going to have to move on without them. Guys stepped up when we lost Malcolm Mitchell, and they're going to have to step up now."
Said quarterback Aaron Murray: "It stinks. You definitely hate to see guys get hurt, especially some of these guys that have been having such great years for us."
Richt continues to list top tailback Todd Gurley as day-to-day with the sprained ankle he suffered in the second quarter against LSU. Freshmen J.J. Green and Brendan Douglas shouldered the load Saturday once Marshall went down, and this week could be spent determining a third-team tailback among A.J. Turman, Brandon Harton and Kyle Karempelis should Gurley be unable to go.
When discussing potential depth at receiver, Richt said junior-college transfer Jonathon Rumph remains doubtful and that he is not sure freshman Tramel Terry would be ready. Terry tore his ACL last December, and neither he nor Rumph have played this season.
Despite the injuries to Georgia's offense, that side of the ball fared much better against the Volunteers than the defense. The Bulldogs allowed 277 yards after halftime and were bailed out when Tennessee receiver Pig Howard fumbled the ball through the end zone in its overtime possession.
"When I saw him dive, I thought he scored," outside linebacker Jordan Jenkins said. "I didn't know he even dropped the ball until everybody was over there saying he dropped it. I just thought he was out of bounds before he dove, but after I saw it on the screen, I was overjoyed."
Richt was asked Sunday about the offense carrying the defense in several games this season.
"I don't think that," he said. "We're one team. We're Georgia. We know that regardless of the situation or the score, we're expecting our defense to get stops. Whatever it takes to win is all that we're worried about right now."
Odds and ends
Georgia opened Sunday as a 10-point favorite over Missouri. ... Richt said that freshman safety Tray Matthews (hamstring) is questionable for this week and that senior safety Connor Norman (concussion) has a "realistic shot." ... Punter Collin Barber (concussion) is being listed day to day.
Contact David Paschall at dpaschall@timesfreepress.com or 423-757-6524.