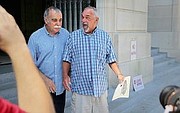 ATHENS, Tenn. - The man who in 2010 tried to have the Monroe County grand jury foreman arrested was sentenced on Tuesday by a McMinn County judge to three years in prison on more recent extortion and perjury charges stemming from a June jury conviction in Athens.
U.S. Navy Lt. Cmdr. Walter Frances Fitzpatrick III (retired) was indicted in March on charges of aggravated perjury, harassment, stalking and extortion and convicted by a jury in June on the perjury and extortion charges. The stalking charge was dismissed prior to trial and jurors found Fitzpatrick not guilty of harassment, according to court officials.
The charges came after Fitzpatrick entered McMinn County grand jury meetings to present petitions related of criminal activities he contended were taking place. The grand jury did not issue any indictments related to those attempts to make presentations.
Judge John Blackwood on Tuesday sentenced Fitzpatrick to three years in prison, with the opportunity for release after he serves 30 percent, or a little under a year. The sentence on each of the McMinn convictions will run concurrently, but consecutive to another conviction in Monroe County associated with a previous case.
Blackwood called Fitzpatrick a "moral coward" and his accusations of criminal wrongdoing among local judicial officials and the president "ludricrous."
Fitzpatrick's attorney, Van Irion, said he was surprised that his client was placed into custody at the end of the hearing and that he would appeal the sentencing.
"He never threatened anybody," Irion said
Irion said he was troubled by Blackwell's remark during the hearing, "'I'm sick and tired of all these people who want to talk about their Constitutional rights,'" which came while the judge commented on Fitzpatrick's wrongfully pursuing grand jury presentations in accordance with his military oath to protect and defend the Constitution.
Fitzpatrick has gained support from like-minded folks who held a couple of events on Monday to show support for the former veteran they maintain is the victim of a "miscarriage of justice."
More than 25 people were in the gallery Tuesday to show their support for Fitzpatrick and they broke out into applause as Fitzpatrick was taken from the courtroom in handcuffs, amid a couple of cries of "thank you."