Photo Gallery
Independence Day festivities at Veterans Memorial Park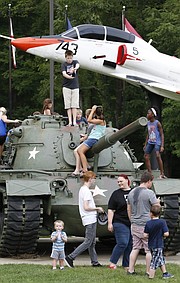 Volunteers clear creek at Camp Jordan
What: A group of 47 volunteers, along with a crew from Big Woody's Tree Service, spent two days removing a major log jam of fallen trees and debris in West Chickamauga Creek at Camp Jordan. "The largest tree had a 3-foot-diameter base," says Jim Ledbetter, conservation chairman of the Tennessee Valley Canoe Club. "When it fell, it took three more down with it and formed a dam."
Benefits: Clearing the dam resulted in an open, unobstructed canoe route into South Chickamauga Creek and eventually the Tennessee River.
Participants: South Chickamauga Creek Greenway Alliance, Akzo Nobel Surface Chemistry, Big Woody's Tree Service, Tennessee Valley Canoe Club, city of East Ridge, Hamilton County Water Quality, American Canoe Club, and Tennessee Department of Environment and Conservation.
---
Salvation Army honors 'community heroes'
What: Representatives of the Salvation Army delivered donuts to "local heroes in the community every day" on June 6, National Donut Day, in appreciation of their service. Treats from Daylight Donuts were delivered to fire departments, local mayors, 911 Call Center and the Armed Forces recruiting center.
About Donut Day: When America entered World War I in 1917, Salvation Army volunteers served America's servicemen on the front lines by frying dough as a sweet treat and reminder of home. The treats were called "donuts," and the women became known as "Donut Lassies."
"The Salvation Army has been serving in times of disaster and, when needed, at times of war for decades," said Maj. Algerome Newsome.