Photo Gallery
See inside Howard Baker's massive estate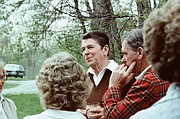 HUNTSVILLE, Tenn. - The massive Huntsville estate of former U.S. Sen. Howard Baker is going up for auction.
The Tennessean reports Furrow Auction Co. will hold an auction on Saturday for the 11.5-acre estate and much of its contents.
Baker served 18 years in the U.S. Senate, including time as Senate Majority Leader, before serving as the chief of staff to President Ronald Reagan and the ambassador to Japan for President George W.