Photo Gallery
Belew Christmas @ Wildwood Park for the Arts — 12/13/13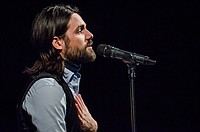 12/13 — Former The Voice contestant Cody Belew serenaded the audience with Christmas classics and tracks from his new album.
In the wake of the fatal Nov. 21 bus crash, the company operating Hamilton County's school buses is spending several million dollars on enhanced safety measures, including smart cameras installed on all buses and a system to better track complaints against drivers.
Hamilton County Schools contracts with Durham School Services to provide busing, and the company's CEO David Duke met with the Times Free Press this morning.
Duke said Durham is fully cooperating with the investigation and that the 24-year-old bus driver, Johnthony Walker, is still employed by the company, pending the investigation. Walker was hired by Durham on May 1, and the company is paying Walker's legal expenses, he said.
Walker's facing six charges of vehicular homicide, reckless driving and reckless endangerment and remains in the Hamilton Count Jail. He's scheduled to appear in court Dec. 15.
Before the crash, which killed six Woodmore Elementary School students on Talley Road in Brainerd, Durham received six complaints from Hamilton County Schools about Walker, Duke said.
Photo Gallery
Tinsel and Tutus @ Reynolds Performance Hall — 12/12/13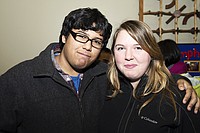 12/12 — The Conway Symphony Orchestra entertained with Christmas music, including highlights from The Nutcracker performed by the Arkansas Festival Ballet.
Hamilton County Schools released more than 30 pages of complaints and correspondence about Walker last week, including handwritten letters from students and a parent citing the driver's speeding and recklessness. But Duke said the company never received the parent or student complaints, and just two of the six complaints it did receive addressed speeding.
The company's IT department searched Durham's email database and only found the six email complaints relating to Walker, Duke said. The offices and files of Durham's management here were also searched and no copies of complaints were found, he said. Some communication could have been verbal, but Durham has no record of these conversations.
"We can only act on what we know and what's before us," Duke said, defending the company's decision to allow Walker to continue driving the bus.
According to records from Hamilton County Schools, district Transportation Director Ben Coulter talked with Durham about the complaints on Nov. 16 and 18.
Hamilton County Schools Interim Superintendent Kirk Kelly said this morning that any complaints were forwarded to Coulter, who shared them with Durham.
The breakdown in communication between Hamilton County Schools and Durham is a problem, Duke said. The process for filing complaints should be that principals and parents notify Coulter, who then notifies Durham to handle the situation. After addressing the situation, Duke said the company would then respond to Coulter, who would update the person who filed the complaint.
"I do not believe that process is in place," Duke said. "And obviously there are some things that need to be addressed."
It's not responsible at this time to speculate about what could have prevented the crash, Duke said, or where exactly the communication process broke down.
"We don't know what didn't work," Duke said. "We know what [complaints] we didn't have."
To help with this problem, Durham is launching a complaint management system that will electronically link every school and district to Durham, so that both groups can see any complaints filed and how they've been handled.
"[It gives] schools and school districts direct and immediate access to address concerns about our drivers with us," Duke said.
The system is state of the art for the industry, and was tested Wednesday and should go live by the end of the week, Duke said. It will be implemented nationwide with the schools Durham serves by the end of next year.
The online systems will have both local and corporate monitoring, Duke added.
Durham also plans to equip all Hamilton County Schools' buses with smart cameras by Dec. 31, which activate and record both the driver and the road each time unusual driving is detected. Thirty additional bus monitors are also being hired to work in Hamilton County.
Kelly said the district will work with Durham to make sure something like this can never happen again, though he noted the district's contract with Durham expires in June 2017.
"Anything that is going to be there to help is providing a step in the right direction," Kelly said.
The first two complaints Durham received about Walker came in August, near the start of the school year, stating he missed a stop and was late to another, Duke said. Complaints like this are not uncommon at the beginning of the school year, he said.
No additional communication about Walker was sent to Durham until Oct. 28, when someone complained Walker was speeding, Duke said. Durham checked the GPS on the bus and found that Walker was not speeding at the time, but still addressed the complaint with him and told him to watch his speed, Duke said.
Then on Nov. 2, a complaint from Woodmore Elementary School Principal Brenda Adamson-Cothran was sent to Durham, which said Walker was arguing with students and that he was speeding leaving the school's loading zone, Duke said. Again, Walker was talked to about the complaints and told to write referrals about kids misbehaving, as the district is responsibile for disciplining students, Duke said.
Soon after, the school complained that Walker was writing too many discipline referrals, saying in one case he wrote 10 in one day, records show.
Photo Gallery
Fatal school bus crash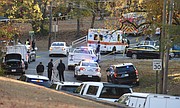 The last complaint Durham received about Walker was Nov. 16, just five days before the fatal crash, stating that he was swerving, Duke said and records show. Durham reviewed the footage on the bus on Nov. 18 and saw that there was some swerving, which the company thinks can be tied to speed bumps on the road. Durham did not address this issue with Walker before the crash on Nov. 21.
Durham does not have a set policy about how school districts share complaints with them, only a policy stating how the company deals with complaints and driver infractions once they are received, Duke said.
"I know what I do with it once I get the complaint, but I can't control the complaint or how it gets to me," Duke said.
Regarding Walker's previous crash in September, Duke said it was minor - the large bus was traveling on a narrow road and side-swiped a car. The total cost of the damage was just $1,500, and the police did not cite Walker, Duke stated and police records show. After the incident, Walker was removed from the route and met with a supervisor who discussed the cause of the incident with him, Duke said. Walker then received additional on-road training and was cleared to return to the route, he said.
Termination is warranted if a driver gets in three crashes within 24 months, or if the violations or crashes warrant immediate termination, which is handled on a case by case basis, Duke said. Nothing in the complaints Durham received caused the company to be concerned about Walker, he continued.
Durham is currently reviewing complaints against other drivers in Hamilton County, Duke said.
Across the nation, student behavior on buses is a problem, Duke said, and Hamilton County is no exception.
After the crash, Durham officials held meetings with all its Hamilton County drivers, and one of the main complaints heard is that students misbehave on buses, and drivers feel like the district does little to address the referrals they make about students.
Hamilton County Schools records show Coulter was concerned about the students behavior on Walker's bus.
Local school districts are responsible for student management and discipline, and school boards set policy for how this is handled, Duke said.
"They direct us," Duke said.
Durham is paying for all funeral and medical expenses, and providing counseling to any Woodmore Elementary students who need it. Officials said there is no requirement to sign non-disclosure, non-disparagement or any other agreement as a condition of receiving the aid.
U.S. Senator Bob Corker discussed the tragedies in East Tennessee today on the Senate floor.
"Mr. President, I rise today to express my deepest sympathies and offer steadfast support to the countless Tennesseans who have experienced tragedy in the recent days," he said. "It's been a rough few weeks in our great state."
"Last week, my hometown of Chattanooga lost six young children in a tragic school bus crash. And today, countless East Tennesseans face a long road ahead after severe storms and tornadoes ripped through Southeast Tennessee, leaving tremendous damage and taking the lives of two individuals in Polk County."
Corker called the wildfires in Sevier County an "unimaginable tragedy" and said he will support requests for assistance for the recovery efforts alongside Governor Bill Haslam, Senator Lamar Alexander and Congressman Phil Roe.
"So many wonderful families call Sevier County home," Corker said. "Tough, proud people whose roots in the area span generations."
Stay with the Times Free Press for this developing story.