Photo Gallery
Belew Christmas @ Wildwood Park for the Arts — 12/13/13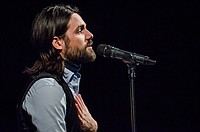 12/13 — Former The Voice contestant Cody Belew serenaded the audience with Christmas classics and tracks from his new album.
The mother of a child who was injured in the crash of a Hamilton County school bus has filed a lawsuit against the school bus company and Johnthony Walker, the driver of the bus.
The bus was transporting 37 students from Woodmoore Elementary School when it crashed into a pole and flipped over, killing some students and injuring more.
In the complaint, attorneys allege that Walker was grossly negligent because he was driving at an excessive speed and lost control of the bus, causing it to flip over. They claim that Durham, the bus company that hired him, was also negligent in hiring and supervising Walker.
Joseph Fried and Michael Goldberg filed the lawsuit on behalf of Shanquatta Byrd, whose daughter suffered a severe brain injury in the crash.
The attorneys are suing for punitive damages "as shown to be fair and appropriate at the trial of this case."
The firm previously handled a case for two families of Georgia Southern nursing school students who were killed in an collision with a tractor trailer in 2015.
"This case has similarities to the Georgia Southern nursing student cases in that we believe the problem is much bigger than just a negligent driver." Fried said. "We believe that corporate negligence is very much at issue and we intend to get to the bottom of it so this does not happen again."