Photo Gallery
Josh Dobbs delivers gem in Vols' finale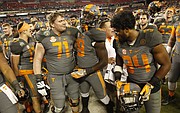 NASHVILLE - Josh Dobbs went out in his style in his final game as Tennessee's quarterback.
All-American defensive end Derek Barnett cemented his place in the program's record book in what likely is his final game with the Volunteers, too.
The senior Dobbs starred in his finale, totaling more than 400 yards of offense and rushing for three touchdowns as Tennessee completed a 9-4 season with a 38-24 win against Nebraska in the Music City Bowl at Nissan Stadium on Friday.
The Vols led by 17 early in the fourth quarter and had to answer when the Cornhuskers (9-4) scored 10 straight points to pull within 31-24 with 10 minutes remaining.
Dobbs calmly led Tennessee's answering drive, and Barnett broke Tennessee legend Reggie White's career sack record with a takedown of Nebraska backup quarterback Ryker Fyfe, starting for the injured Tommy Armstrong Jr., with 3:29 remaning after he came close countless times during the game.
Dobbs finished 23-of38 passing for 291 yards and a touchdown and added 118 yards and three touchdowns on 11 carries.
Josh Malone came 18 yards short of 1,000 for the season despite catching five passes for 120 yards and a key fourth-quarter touchdown.
It took a quarter for Tennessee's offense to kick into gear, but its defense looked vastly fresher and more confident than it did in the final three regular-season games when the Vols allowed nearly 2,000 yards to Kentucky, Missouri and Vanderbilt.
The teams combined for five punts, six first downs and five penalties in a scoreless first quarter.
After Jauan Jennings and Alvin Kamara had potential touchdown passes bounce off their hands, the Vols struck first when John Kelly found the edge and raced down the sideline on a 28-yard touchdown.
Dobbs had two remarkable improvisations on Tennessee's next series as he turned a broken screen pass into a first-down scramble on third down and then scrambled right up the middle when no one was open downfield on a 10-yard run.
Nebraska had just 39 yards of offense midway through the second quarter when the Huskers struck with a pair of big passing plays to tight end Cethan Carter for 33 yards and to Brandon Reilly, who made a leaping catch in single coverage against Tennessee's Emmanuel Moseley to make it 14-7 with less than two minutes before halftime.
There was still enough time for Tennessee to answer, and Dobbs drove his offense down the field with his passing and his scrambling and, after Jauan Jennings had a touchdown reversed by replay review, scored from 2 yards out with nine seconds left in the half.
Malik Foreman forced and recovered a fumble on the second play of the second half, but Nebraska stuffed Kelly on fourth-and-1 to prohibit any further damage.
Tennessee extended its lead to 24-7 on Aaron Medley's 46-yard field goal following on a long Dobbs run, but Nebraska quickly answered as Devine Ozigbo ripped off a 42-yard run to set up Fyfe's lob to Reilly on a corner route in the back of the end zone to make it 24-14 heading into the fourth quarter.
Jason Croom's 30-yard catch set up Dobbs's third touchdown run, a 3-yarder, on the second play of the fourth quarter.
Nebraska pulled back to within two scores on Brown's 45-yard field goal a couple of minutes later, and Tyler Byrd fumbled the ensuing kickoff after he was hit by JoJo Domann to inject more life into the Huskers.
Fyfe scored on a keeper five plays later and Tennessee's lead was 31-24 with 10 minutes remaining.
The Vols answered through Dobbs -- who else? -- to quell the Huskers' momentum.
He took a quarterback draw 11 yards to convert a third down, then hit Malone in stride for a 59-yard touchdown -- Malone's 11th of the season -- to push the lead back to 38-24.
Barnett was impacting the game early on despite coming short of his record-breaking sack, and Fyfe often was harried and uncomfortable when Nebraska was forced into obvious passing situations.
He nearly broke the record in the third quarter when he hit Fyfe as he was throwing, but the play was ruled an incomplete pass on the field and upheld on replay review. It was tough to tell if the ball was knocked loose from Fyfe's hand before it started moving forward. It would have been a fumble and sack in that case.
At least six or seven more times Barnett got a hand on Fyfe, only for the backup quarterback to get rid of the ball or shake free to keep the play alive.
Barnett came no closer to the record than he did with five minutes left, when he hit Fyfe from his blindside as he threw, but his relentlessness paid off and Tennessee burned a timeout to avoid a celebration penalty and savor the historic moment for a projected first-round pick in the 2017 NFL draft.
Nebraska finished with 318 yards of offense and rushed for only 61 yards.
Tweets by @patrickbrownTFP