Photo Gallery
Josh Dobbs delivers gem in Vols' finale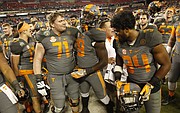 NASHVILLE - Apparently there is, in fact, something Derek Barnett doesn't excel at doing.
When asked to lead Tennessee's Pride of the Southland Band after the Volunteers beat Nebraska in the Music City Bowl on Friday, the All-America defensive end, fresh off breaking Reggie White's record for career sacks, froze up.
"I was a little nervous at first," Barnett sheepishly admitted, "but I saw (Josh) Dobbs up there, so I had to go."
"He asked me what to do," Dobbs interjected with a laugh.
It was a fitting end to a historic day and perhaps college career for Barnett, who recorded his 33rd sack with a takedown of Nebraska's Ryker Fyfe with less than four minutes to go after coming close seemingly a dozen times during what was a dominating performance.
Every time Barnett broke free of his blocker and closed in on Fyfe, the mostly orange crowd at Nissan Stadium crescendoed in anticipation the special moment was about to happen.
The chase turned out to be one of the best parts of Friday's win for the Vols.
"We knew he was getting closer and closer each time," linebacker Cortez McDowell said. "As a defensive guy, offensive guy, no matter what position you play, it's always exciting to see somebody who loves the game of football just go out and compete. For him, when he got that final sack, for him to break it, it was special for everybody on that unit.
"We know that work that he puts in and the determination to be great. I tip my hat off to him, man. He's unbelievable."
So many times Barnett would get a hand on Fyfe or hit him just as he threw the ball. One hit was close to being a sack-fumble, but it was ruled an incomplete pass. Replay review upheld the close call.
On Nebraska's first series Barnett delivered a hit on Fyfe and stayed on top of him for an extra couple of seconds to send a message.
"Barnett is a good player, obviously," Fyfe said. "I hate to say it, but he is. He talked a lot of trash out there, but yeah, he's a good player.
"Late in the game," added the backup quarterback, "I think I got hit, sacked by him. My head, I was seeing stars and I thought I was concussed. I think I might have a mild concussion, I'm not sure."
Fyfe was incredulous Barnett had just one sack because "it seemed like he was back there all the time."
"I don't think it was tough to keep working," Barnett said. "I mean, as a defensive lineman, you have to have that mindset. You're not going to get home every time, but I know the guys besides me, they're going to keep working. I know I've got to keep working. The football gods will reward if you keep grinding."
The series on which Barnett's historic sack came was extended by a fourth-down pass-interference penalty on freshman defensive back Marquill Osborne.
"I think Reggie probably helped on that," Barnett said. "I think he was looking down. I think he probably tossed a little flag for me."
Senior defensive end LaTroy Lewis compared Barnett's chase of history to a movie in which you know what's going to happen in the end.
"When it finally happened, our entire sideline explodes," he said. "I'm looking over at Coach (Butch) Jones like, man, you've got to call time out or do something, because I don't know if everybody's going to stay on the sideline. I was excited.
"I wanted that more than anything for Derek."
The timeout the Vols took was necessary, because the Cornhuskers still had three-plus minutes left to cut into their 38-24 deficit and would have had a first down instead of fourth-and-forever.
"In my opinion," Jones said, "he's the best defensive end in the country, the best defensive player in the country."
Barnett is a projected first-round pick in the 2017 NFL draft, but he held off on announcing he'll turn pro and indicated he'll talk with his mother and others in his family about what's best for him.
Whenever Barnett leaves, he'll do so as one of the best players in Tennessee history.
"I just thought about Reggie White being the G.O.A.T (greatest of all time) of the University of Tennessee," said safety Todd Kelly Jr., "and realizing that my teammate, my former roommate, broke his record."
Contact Patrick Brown at pbrown@timesfreepress.com.