Photo Gallery
Acoustic Christmas @ Parkway Place Baptist Church — 12.18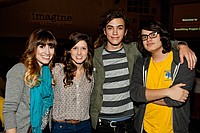 Former P.O.D. guitarist and local musician Jason Truby played a concert titled Acoustic Christmas with Jason Truby and Friends. He asked audience members to bring a new, unwrapped gift to donate to foster care children.
NASHVILLE - A national spotlight will be on a Tennessee lawmaker today at the Democratic National Convention when Rep. Raumesh Akbari, D-Memphis, delivers a nationally televised speech to delegates just a few hours before Hillary Clinton formally accepts her party's presidential nomination.
No slouch at public speaking, Akbari, a 32-year-old attorney, spent time Wednesday preparing for her speech at the Wells Fargo Center in Philadelphia.
"I'm looking forward to it," said Akbari, who was first elected to the state House in a special election in 2013. "I think it's going to be pretty exciting."
She spent part of Wednesday preparing for what is scheduled to be a three-minute speech. The lawmaker aims to boost Clinton's support among a key demographic where the former U.S. secretary of state and one-time U.S. senator has struggled - reaching younger voters.
"I am going to really try and talk with young people, to try and let them know exactly the reason why I support Secretary Clinton, and why I think that they should, as well," Akbari said, saying that reason includes tackling student loan debt and trying to create economic opportunity for young people.
"I'm going to try and hit them quickly because I will be speaking very quickly, just trying to get people on board," she added.
After all, she's got 180 seconds to get her message across.
"Today's been awesome," Akbari said of Wednesday. "So I got here early. I was in rehearsal backstage with a teleprompter. I got to meet the Castro twins and I got to walk out on stage so I could kind of get an idea of what it's going to be like tomorrow."
The Castro twins are Julian Castro, a former San Antonio mayor and current U.S. secretary of Housing and Urban Development who had been under consideration for Clinton's running mate, and his brother, U.S. Rep. Joaquin Castro, D-Texas.
Akbari herself has a twin sister, Raumina.
Tennessee House Minority Leader Craig Fitzhugh, D-Ripley, said Akbari knows how to deliver a message.
"She knows her stuff," he said. "She knows the issues. I was there in Memphis when she introduced Secretary Clinton. She did an outstanding job."
Akbari is the only Tennessee delegate to the convention who has a speaking role there.
While Chattanooga Mayor Andy Berke will not speak at the convention, the former state senator will be addressing the Tennessee delegation at a Democrats breakfast gathering.
Efforts to reach Berke on Wednesday were unsuccessful, with an aide saying his schedule was packed. State Democrats have featured mayors of Knoxville, Nashville and Clarksville, all of them Democrats, on previous days.
"He's going to do wonderful," predicted Renda Washington, a Clinton delegate and executive director of the Hamilton County Democratic Party. "He's going to give us the fire that we need to help the Bernie people to come over because we still have some stragglers."
Washington said Berke knows Clinton personally - he also knows President Barack Obama - noting, "I'm sure he has a story to tell."
Contact staff writer Andy Sher at asher@timesfreepress.com or 615-255-0550. Follow on Twitter @AndySher1.