Photo Gallery
Wildfires continue with no rain imminent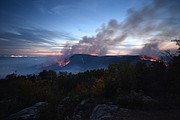 Fire crews from around the country are continuing to fight three wildfires in northwest Hamilton County that have contributed to the smoky haze that has engulfed the city for days.
A 1,000-plus acres fire on an area of Walden's Ridge called Flipper Bend is 95 percent contained, a Florida Forestry Commission spokeswoman confirmed this morning.
"We were really shooting for 100 percent containment yesterday [Monday] and the guys on the line did an incredible job," Julie Allen said. "So hopefully we can boost that up to 100 percent today."
The Mowbray Mountain fire that threatened homes on Arnat Drive last week is at 800 acres and is 70 percent contained.
A separate, 550-acre fire on Poe Road that gave fire crews their biggest challenge Monday is 60 percent contained.
No homes were threatened by the three fires this morning, Allen said.
"They're really making a lot of progress," Allen said. "There are flames and fire out there, it's just not as active as it had been the week before."
Crews from Oregon, California, Texas, Nevada and Florida continued working to contain and extinguish the fires. Three helicopters were expected to execute airdrops on the fires again today.
Rob Pentzer, Oregon division of forestry supervisor, said crews are "over the hump" fighting the fires in the northwest portion of the county.
"But you're never out of the woods until it's over," he said this morning as crews headed back into the woods. "You're going to need at least an inch of rain to make you feel better about what's going on around here."
Many of the Tennessee state forestry crews that had been fighting the three fires have been moved to other areas of drought-ridden east Tennessee where aid is needed.
Gov. Bill Haslam issued a regional burn ban Monday night covering 51 counties, including all of southeast Tennessee.
There were 67 active wildfires in the state, as of this morning.
The ban includes campfires and burning of brush, vegetation, household waste and construction debris. It is scheduled to remain in effect until Dec. 15. Violating a burn ban is considered a class A misdemeanor.
Hamilton County Schools Interim Superintendent Kirk Kelly attended this morning's briefing with forestry officials and thanked them for their efforts.
He told reporters that, with 78 schools in the district, the department of education is handling smoke concerns on a case-by-case basis.
"Our maintenance department has been out in the schools most affected working to do what they can in terms of the heating and air that we have in those schools," Kelly said. "Issues that we have with students, we're working with them on an individual basis if there are health reasons why being in the school may be a bad condition for them."
Chattanooga hospitals have treated dozens of patients due to the wildfire smoke, and local doctors say it is particularly threatening to those already suffering from lung or heart diseases.
East Tennessee is under a code orange air alert, meaning the air may be unhealthy for sensitive groups.
Parents with students who might be affected by by smoke-related issues are encouraged to communicate with the school to work out a a solution. Smoke-related absent days won't be counted against students, Kelly said.
Several other wildfires continue to burn around the tri-state area and the southeast.
The Georgia Forestry Commission extinguished 18 fires in north Georgia on Monday and into Tuesday morning, according to a news release.
A fire in Dade County, Ga., on Lookout Mountain joined with another fire and is currently 2,000 acres. It is 10 percent contained and expected to reach 3,200 acres, according to Georgia forestry.
The news release said 160 homes could potentially be threatened, "although no structure damage is expected."
Fire crews are working closely affected residents. Residents of the Lookout Highlands subdivision were evacuated Monday and are expected to be allowed back in their homes by 8 a.m. Wednesday, according to Georgia Forestry.
Another Lookout Mountain fire along Creek Road is almost entirely contained and is expected to reach 150 acres.
The 590-acre fire on Rocky Face Mountain is 98 percent contained.
Fires are also burning in the Cherokee National Forest, which skirts the Tennessee-North Carolina border and in the Rough Ridge area of the Cohutta Wilderness in rural north Georgia.
"The Rough Ridge Fire being managed by the U.S. Forest Service continues to grow in size and complexity," the Georgia forestry news release said. "This fire can now be seen from many areas of North Georgia including the Conasauga River, and it is being closely worked and monitored by state, federal and local agencies."
The Tennessee Valley Authority has also issued a burn ban on all its public lands in the Tennessee Valley.
In Alabama, the fire marshal said state officers are investigating two of nearly 1,100 statewide wildfires as possible arson, according to the Associated Press.
Fire Marshal Scott Pilgreen said a fire that burned 800 acres in DeKalb County is under investigation. So is a series of three blazes that burned 65 acres along Interstate 65 north of Birmingham last week.
No arrests have been made. But Pilgreen says officers also issued a few misdemeanor citations to people who allegedly violated a statewide no-burn order during the drought.
The Alabama Forestry Commission says about 1,100 wildfires have burned more than 12,500 acres in the last month.
The agency attributes most of those blazes to carelessness, like people tossing cigarette butts on the ground. But a spokeswoman says the cause of most of those wildfires is unknown.