Photo Gallery
Man in serious condition after Alton Park shooting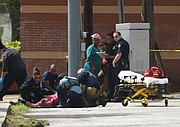 A group of children in day care managed to sleep through a nearby shooting and car crash in Alton Park that left one man in serious condition at the hospital Friday afternoon.
David Green, 31, was shot multiple times around noon as he drove on the 3800 block of Alton Park Boulevard and crashed in front of the Alton Park Church of Christ which hosts children for day care.
Officers arrived on scene and found Green slumped over in the car, and paramedics rushed him to a local hospital.
Rob Simmons, a spokesman for the Chattanooga Police Department, said the victim did speak to officers before being transported, but Simmons did not comment on what was said.
The