Photo Gallery
Southside Community Park opens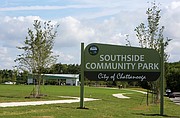 Often described as an eyesore, the site where the Charles A. Bell Elementary School was formerly located sat dormant for nearly 30 years. That changed last week with the long-awaited opening of the Southside Community Park.
"This is a dream come true for us," said Alton Park resident Rosemary Porter, whom Chattanooga Mayor Andy Berke credited for getting neighbors involved in deciding what the park ought to look like. "We have been working on this for about four years."
The school closed in 1989 and was demolished six years ago. Berke put $1 million toward transforming the property into a park in the city's fiscal 2015 capital budget.
Porter credited former councilman Chris Anderson for working with the neighborhood "diligently" throughout the process. Erskine Oglesby unseated Anderson as the Southside's representative this spring.
"This park is unique," Anderson said. "It's 100 percent driven by what the residents wanted the park to look like, not what the city wanted it to look like."