Local law enforcement will be randomly following and riding in Hamilton County school buses in the wake of the fatal Woodmore Elementary school bus crash late last year.
The Tennessee Highway Patrol, the Hamilton County Sheriff's Office and Chattanooga Police Department announced the safety plan Monday at a news conference at the Hamilton County Department of Education.
Photo Gallery
Editorial Cartoons December 2013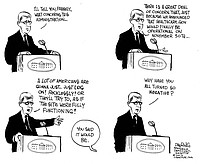 "We are doing this to ensure that we don't have additional tragedies," said Hamilton County Interim Superintendent Kirk Kelly.
About 20,000 kids ride the district's 240 buses each day, and for the remainder of this school year Tennessee state troopers, police and sheriff's deputies will be monitoring buses.
The highway patrol will focus on riding along or following Woodmore buses, and Chattanooga police officers and county sheriff's deputies will do the same on other buses across the county "as schedules and personnel allow," according to a statement from Hamilton County Schools. Officials refused to say how many buses officers plan to ride or follow.
"We are continuing to make improvements to the way we transport our students," Kelly said, thanking law enforcement agencies for partnering with the district.
Highway patrol Lt. John Harmon said the safety initiative will look at all facets of bus safety, including the bus drivers and other cars. For years, the highway patrol has randomly followed some buses in the area, Harmon said, and this new plan is more aggressive.
"You're going to see more visibility out there from law enforcement behind the school buses," Harmon said.
Police believe 24-year-old Johnthony Walker was speeding on Talley Road in Brainerd on Nov. 21 when he crashed the school bus, killing six Woodmore Elementary School students. Walker remains in the Hamilton County Jail facing charges of vehicular homicide, reckless driving and reckless endangerment.
Parents, students and school administrators filed a number of complaints against Walker before the fatal crash, according to records obtained from Hamilton County Schools. Walker's personnel file shows he was also in two other minor crashes before the fatal Nov. 21 crash.
Walker also filed complaints about students misbehaving on the bus, and said kids were standing in the aisle and he was concerned for their safety, according to the records.
Student misbehavior on buses is a problem and safety concern across the nation, said David Duke, CEO of Durham School Services, the company contracted to provide the district's busing.
The day after the crash, Durham officials held a meeting with its Hamilton County drivers, and one of the main concerns voiced was about students misbehaving on buses, Duke previously told the Times Free Press. Drivers said they feel like Hamilton County Schools does little to address the referrals they make about students, he said.
Hamilton County Schools also did not share all of the complaints it received about Walker with Durham, Duke said. He added that his company can act only on the information it received.
After the crash Durham launched an online complaint tracking system and implemented a series of safety upgrades in its buses.
Contact staff writer Kendi A. Rainwater at krainwater@timesfreepress.com or 423-757-6592. Follow on Twitter @kendi_and.