Photo Gallery
Great Smoky Mountains wildfires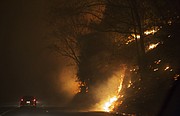 GATLINBURG – The hunt is on for scam artists who might try to turn the Sevier County firestorm recovery into personal moneymakers.
"In the wake of a disaster, it's common to see the generous side of human nature," said Patrick Sheehan. Tennessee Emergency Management Agency (TEMA) director. "Unfortunately, there are also those people who may try to take advantage of victims during this stressful time."
A joint press release from TEMA and the Federal Emergency Management Agency (FEMA) on Tuesday warned Sevier County residents to beware of scams and frauds in the wake of the Nov. 28 fire that damaged or destroyed more than 2,460 structures in Sevier County.
Read more at our news partner's website, knoxnews.com.