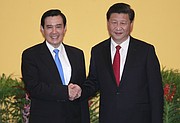 A second suspect in the weekend slaying of a teenager continued to evade authorities Monday, even after police used a dying declaration from the victim to make one arrest.
Jalen Little, 19, died at a local hospital early Sunday morning after he was shot multiple times in front of his Oak Tree Drive residence in North Chattanooga just before midnight.
As he lay on his driveway awaiting to be taken away in an ambulance, Little issued a "dying declaration" to authorities, saying Zachary Chadwick shot him, according to an arrest affidavit obtained Monday.
Chadwick, 19, was arrested Sunday and said during interviews with police that Jacob Coyne pulled the trigger, the affidavit shows.
Coyne, 21, is wanted for criminal homicide and especially aggravated robbery. Chadwick is facing the same charges. He was being held Monday on $850,000 bond at the Hamilton County Jail, with an initial court date of March 20.
Little's death is the city's third homicide of 2017 and the first since Christopher Woodard and gang kingpin Jumoke Johnson were killed Jan. 20.
The affidavit and Chadwick's statements to police detail a dispute over drugs and money that escalated quickly.
Chadwick told police he gave Little $960 to purchase marijuana earlier in the day, and according to the affidavit, he told officers that Little never returned with the marijuana or money.
The two suspects discussed finding Little and getting Chadwick's money back, according to the testimony in the affidavit.
"Mr. Chadwick advised he and Mr. Coyne took his gun to look for the victim just in case they needed to use it," the affidavit says.
Chadwick told police Little had a "large sum" of money in his hand when the two approached him in his driveway. That's when Coyne allegedly opened fire.
The affidavit also says witnesses reported Coyne as the shooter.
Chadwick said that, after the shooting, Coyne picked up the money and threw him a crumpled-up $20 bill as they ran back to a vehicle.
"I wasn't able to get back all your money, but here's [$20]," Coyne said, according to Chadwick.
Contact staff writer David Cobb at [email protected] or 423-757-6249.