Photo Gallery
Editorial Cartoons December 2013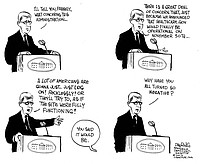 The attorney for the bus driver charged with killing six children in the Woodmore accident said he was not guilty this morning in Hamilton County Criminal Court.
Johnthony Walker, 24, faces six counts of vehicular homicide, four counts of reckless aggravated assault, and one count each of reckless driving, reckless endangerment and use of portable electronic device by a school bus driver after a grand jury indicted him earlier this month.
He is scheduled to next appear April 19 before Criminal Court Judge Don Poole.
Police say Walker was speeding down Talley Road on Nov. 21 with 37 Woodmore Elementary children onboard when he lost control of the bus, swerved off the narrow two-lane roadway to the right, struck a driveway and a mailbox, and overcorrected into a telephone pole and a tree.
The National Transportation Safety Board said Walker was not under the influence of alcohol or drugs but deviated from his normal route at the time of the accident.
Walker and his employer, Durham School Services, which provides most of the county's buses and drivers, now face about a dozen lawsuits in state and federal court in connection with the incident.
This is a developing story. Please check back later for more updates.