Photo Gallery
Four area players among Mr. Football finalists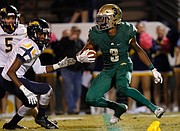 Four players from the Chattanooga area were named finalists for the TSSAA Tennessee Titans Mr. Football awards Monday.
Notre Dame receiver Camryn Wynn, Marion County two-way athlete Jacob Saylors, Meigs County two-way athlete Aaron Swafford and Bledsoe County kicker Gabe Boring each is one of three finalists in his respective classification.
The three finalists for each category will attend the Mr. Football banquet on Nov. 27 at Nissan Stadium in Nashville, where the overall winners will be announced.
Wynn, a junior who has committed to the University of Tennessee, has more than 1,500 all-purpose yards and 20 total touchdowns to go with 30 tackles and a kickoff return for a score to help the Fighting Irish reach the Division II-AA semifinals. The other two finalists in D-II AA are Knoxville Webb's Morgan Ernst and Lausanne's Eric Gray.
Saylors and Swafford are two of the three finalists in Class 2A, along with Waverly Central's Gavin Stanfield.
Saylors, a senior and two-time all-state defensive back, has more than 1,800 rushing yards, 500 receiving yards and 35 total touchdowns, as well as 40 tackles and four interceptions. He has rushed for more than 200 yards in three of the Warriors' last four games and leads them against Tyner in this week's quarterfinals.
Only a sophomore, Swafford is an all-state quarterback and defensive back who has helped Meigs County remain atop the state rankings for most of the season and reach Friday's quarterfinals, the furthest the program has advanced in 20 years. Swafford has more than 1,100 rushing yards and 18 TDs, as well as 1,200-plus passing yards and another 15 scores. Defensively he has 55 tackles and has returned two of his three interceptions for TDs.
Boring was perfect on 11 extra-point kicks this season and 5-of-6 on field-goal attempts, with a long of 47 yards. He leads the area with a 47-yard punting average.
Contact Stephen Hargis at shargis@timesfreepress.com or 423-757-6293. Follow him on Twitter @StephenHargis.
TSSAA Tennessee Titans Mr. Football finalists
DIVISION I, CLASS 1AParker McKinney (Coalfield)Brandon Moore (Fayetteville)Kade Pearson (Huntingdon)DIVISION I, CLASS 2AJacob Saylors (Marion County)Gavin Stanfield (Waverly Central)Aaron Swafford (Meigs County)DIVISION I, CLASS 3AKalyn Grandberry (Raleigh-Egypt)Darius James (Fairview)Jimmyrious Parker (Pearl-Cohn)DIVISION I, CLASS 4ACade Ballard (Greeneville)Stanton Martin (Anderson County)Dontae Smith (Spring Hill)DIVISION I, CLASS 5ATai Carter (Summit)Jordan Davis (Southwind)Cade Mays (Knoxville Catholic)DIVISION I, CLASS 6ASavion Davis (Riverdale)Dylan Hopkins (Maryville)Jaylin Williams (Germantown)DIVISION II, CLASS ADa'Joun Hewitt (Davidson Academy)Brant Lawless (Nashville Christian)Xavier Myers (Nashville Christian)DIVISION II, CLASS AAMorgan Ernst (Knoxville Webb)Eric Gray (Lausanne)Cam Wynn (Notre Dame)DIVISION II, CLASS AAATyler Badie (Briarcrest)Camron Johnson (Brentwood Academy)Bill Norton (Christian Brothers)KICKER OF THE YEARGabe Boring (Bledsoe County)Charles Campbell (Univ. School Jackson)Aaron Sears (Oakland)