Photo Gallery
Big Orange Caravan rolls into Chattanooga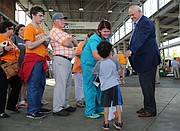 When the Big Orange Caravan stopped at the First Tennessee Pavilion in downtown Chattanooga last year, John Currie was Tennessee's athletic director and there was still at least some optimism that Butch Jones could succeed as the Volunteers' football coach.
Thursday night was another reminder of how much has changed in less than a year on Rocky Top.
Phillip Fulmer, now the athletic director, led the Caravan back to the Scenic City with Jeremy Pruitt, a football coach he hired, in tow on the first of five caravan stops across the region. The fan frenzy came just days after university system president Joe DiPietro announced another significant change in Knoxville.
DiPietro announced last week that Beverly Davenport soon will be removed as chancellor of the Knoxville campus. But Fulmer insisted the move will have little effect on the athletic department.
"I have a job to do," Fulmer said, speaking to reporters before he mingled with fans at the sold-out event. "It won't affect us. I appreciate the contributions Dr. Davenport made. We had a good relationship, but that doesn't affect us. We are moving on as an athletic department."
inline type="embedded" id="3090" align="left" />
Davenport initially passed over Fulmer for the athletic director position early last year to hire Currie instead and then replaced Currie with Fulmer several months later during a tumultuous football coaching search.
"In our case, we are in a good place moving forward," Fulmer said.
Wayne Davis, formerly the dean of the university's Tickle College of Engineering, will serve as interim chancellor for 6-12 months.
Pruitt, who will lead the football Vols into a challenging 2018 slate on the heels of the program's first eight-loss season, said before the Caravan event that the chancellor change will "have no effect" on the football program.
"We've got great leadership in Coach Fulmer, and I was thankful for what Chancellor Davenport did while we worked together," Pruitt said. "But we're moving forward and excited about Wayne Davis."
Fulmer outlined the culture he is trying to instill in an athletic department, referring to "four pillars" of communication, trust, warmth and intensity as he discussed his relationship with Pruitt.
"We're communicating well," Fulmer said. "We're learning to trust each other, which has been real positive. The warmth part we'll work at and get there someday. But right now, there's so much to do. The intensity, I don't have to worry about. It's there."
Contract extensions
Fulmer deflected a question about a potential contract extension for Rick Barnes, who led the Tennessee men's basketball team to a co-SEC regular-season championship and to the second round of the NCAA tournament.
"When I get to that point, I'll make an announcement on any contract in every situation," Fulmer said. "That's kind of the way it's going to be."
Women's basketball coach Holly Warlick, who drew scrutiny following the Lady Vols' first-ever NCAA tournament home-court loss in this year's second round, is set to have her contract expire next year. But she indicated that she expects to receive a contract extension "soon."
"It's in progress," Warlick said. "Working on an extension. That's about all I know."
Contact David Cobb at dcobb@timesfreepress.com. Follow him on Twitter @DavidWCobb and on Facebook at facebook.com/volsupdate.