Photo Gallery
Voting in Dalton, Georgia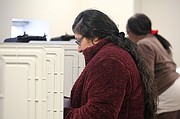 VARNELL, Ga. - After he walked out of the Varnell Gym on Tuesday afternoon, Joseph York shook his head as he thought about the future of Georgia.
York, 80, said he had never before seen problems in the country the way he does now. So much divisiveness, he said. People can't get along. People can't see even imagine how the other person feels, if that person happens to be from a different political party. And you know who's to blame, he said? The Democrats.
Ever since Donald Trump won the presidency, York said, the liberals have been pulling their hair out, trying to "resist" a freely elected leader. During his race against Democrat Stacey Abrams, Republican governor candidate Brian Kemp painted a similar picture. He called her "extreme," too far to the left for most people in Georgia.
York saw this year's election the same way.
"She will change Georgia," he said. "First of all, she wants to open the borders. She wants to have a sanctuary state. She wants to take our guns from us; that's one of the big things. She's wanting to change Georgia. That will change the south, which will change the whole United States. I reckon she's just like one of them Democrats that wants to control everything and don't know how to do nothing."
Across the parking lot, 68-year-old Mary Beth Smith saw the election through a similar point of view. The stakes felt like they couldn't be higher.
"He's for the people," Smith said of Kemp. "All the people. Stacey Abrams is for socialism, for raising taxes. Kemp is for the farmers. We're farmers. That's all."
This year, as a "blue wave" and a "red wall" became the most popular talking points of the midterm elections, politicians and pundits wondered whether things might be different.
In North Georgia? Nope. An area that the Cook Political Report dubbed as one of the most conservative regions in the nation became even darker red in this race between Kemp and Abrams. Democrats said Kemp was a voter suppressionist. Republicans accused Abrams of urging undocumented immigrants to vote, against the law.
The net result here was a huge boost for Kemp. In the 2014 race between Nathan Deal and Jason Carter, the northwest corner of Catoosa, Chattooga, Dade, Gordon, Murray, Walker and Whitfield counties overwhelmingly supported the Republican. About 46,290 people voted for Deal, representing 68.8 percent of the vote.
The support was even more overwhelming this time around. Kemp garnered about 82,800 votes in the region, about 80 percent of the turnout. That was about a 36,000-vote increase over 2014.
Several voters the Times Free Press talked to in North Georgia on Tuesday saw the race as a referendum on Trump. A vote for Kemp was a vote for Trump. Katie Hogan, 29, said outside the Rossville precinct that she felt the economy was going well under the president. A U.S. Navy veteran, she was also pleased when he extended the length of time a member of the military would be eligible for the G.I. Bill.
"I'm a Trump supporter," she said, "and I just know how important that vote is for him."
Brandon Johnson, 37, said outside the Rossville precinct that he was backing Kemp because of the national picture of the race. He considers himself a libertarian and felt turned off when celebrities came out in support of Abrams. (Trump's appearance for Kemp this weekend did not have the same impact on him.)
"She had Oprah Winfrey helping her campaign," he said. "I didn't care for that. Any celebrity, they need to leave it alone."
Democrats did not see a significant drop in turnout in the region - they just couldn't match Republican enthusiasm. About 19,700 Democrats voted in the region this year, a jump of 1,800. But the Democrats' share of the total vote in the region dropped 10 percent.
Like Republicans, supporters of Abrams in this area saw the election as a referendum on Trump and national issues. Joan Karst, 68, of Rossville, said she was motivated to vote in the governor's race because she is against Congress building a wall on the southern border of the United States. Also, she wants Georgia to expand social safety net benefits, such as Medicaid. And she does not like Trump.
"Everything has to do with our president," she said. "That's why I voted. This guy is a total narcissistic idiot. And I won't vote for any party that supports an idiot like him."
Ashlen Thompson, 25, drove 1-1/2 hours from Kennesaw to Chickamauga, where he is registered, on Tuesday. Thompson is a transgender man and feels Abrams is a stronger supporter of LGBTQ issues.
"She speaks with purpose and makes good points," he said. "With Brian Kemp, it's more or less, every time he's on TV, he digs himself in a deeper hole."
In Dalton, 25-year-old Marlen Hernandez took the day off work from Kroger to vote. After immigrating from Mexico as a child, she became a citizen in early 2017. This was her first opportunity to vote.
"When people make these policies or they're talking about immigration, they kind of lose the human aspect," she said. "I'm a person. I didn't really come here to steal your jobs. Or to leech off the government. I came here to get a better life, not only for myself but for my family. Stacey Abrams really was sympathetic toward our cause."
Contact staff writer Tyler Jett at 423-757-6476 or [email protected]. Follow him on Twitter @LetsJett.