Photo Gallery
Signal Mountain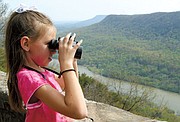 Who flourishes here? "[People who] are looking to raise a family somewhere, but you still have close access to downtown (Chattanooga) and all the amenities there."
Signal Mountain, nestled at the southern end of the Cumberland Plateau on Walden's Ridge, is celebrating its centennial as an incorporated town this year. It first became a town on April 4, 1919.
Before it was a city, Signal Mountain was a staging area for the Civil War, and before that a smoke signal launch point for Native Americans.
Today, the town is home to more than 8,507 residents, as well as its own library, schools, churches, parks, stores and trails.
Signal Mountain is bordered atop the ridge by the city of Walden and the community of Fairmount. All three are rated by Niche.com as among the top 10 neighborhoods/communities in Tennessee to raise a family.
We sat down with one of those families.
Signal in 3 words: "Nature, family, active."
My Chattanooga: Tell us about your history on Signal Mountain, before you became the co-owner of Mayfly Coffee Company with your wife Katie in the Old Town section of the city.
Atley Davidson: My wife grew up in Alabama and I grew up in northeastern Tennessee. Good jobs brought us to the community. It was a good centralized spot between our families. It was a perfect place to raise kids.
My Chattanooga: How long have you lived on Signal?
Davidson: We've lived here since 2008. I used to work for Hamilton County government downtown in IT. My wife worked at Parkridge (Hospital) for years. Now, she teaches at Chattanooga State.
My Chattanooga: Tell me the origin story of your business?
Davidson: I was exposed to coffee roasting as a kid; my dad did it as a hobby. ... I began roasting at home, and was giving it to friends and family. Somebody suggested [we sell coffee at] the farmers market on Signal. That's how it began. Not really a business plan, it was just organic.
My Chattanooga: Tell us about opening your coffee shop and cafe on Mississippi Avenue.
Davidson: In mid- to late 2014 we moved into this building. It was not a cafe at first, [we just sold] roast coffee. That changed around 2016 when we added on a basic cafe. ... I just kind of built up. It was demand from community that encouraged us to do a remodel.
My Chattanooga: What's the story behind the name Mayfly?
Davidson: Naming it Mayfly was part of my background. I like to fly fish and lived in Montana. The idea of Mayfly is nature - getting outside. A mayfly is an actual bug. We were given a lot of advice about not naming a coffee business after a bug, but it represents us. It represents what we want the brand to stand for - taking time off, enjoying nature.
No matter where you live on Signal, outside your backdoor is nature. There are endless things to do, whether hiking or exploring waterfalls or road cycling or climbing. All those things are up here.
My Chattanooga: How is the business doing?
Davidson: Mayfly has turned into one of the social hubs on Signal. That's really special.
BY THE NUMBERS
WHO WE ARE
Median household income: $103,139
Population: 8,507
Median age: 44
White: 97.3%
Asian: 1%
Hispanic: 0.6%
African-American: 0.4%
Two or more races: 0.6%
*2017 estimates.
Source: 2017 American Community Survey
WHERE WE LIVE
Median sales price: $386,000 in 2018; $345,000 in 2017
New listings: 349 in 2018; 365 in 2017
Sales closed: 244 in 2018; 255 in 2017
Source: Greater Chattanooga Association of Realtors annual report
» The town of Signal Mountain is largely built out, though plots do exist along Shackleford Ridge Road, which was annexed in 2006. The road houses the Fox Run subdivision, which is proposed to double in size by 2022. The add-on, Wild Ridge at Fox Run, will hold an estimated 199 homes. Outside town limits, in unincorporated Hamilton County above Roberts Mill Road, lots of earth is moving as high-end developments come online. In early 2019, lots went on the market for the biggest new residential development proposed on the mountain in the past five years. Located above Roberts Mill Road, Flipper Bend will have a maximum of 200 homes, with an average lot size of 2 acres.
OUR SCHOOLS
Signal Mountain's schools are considered some of the area's best, and are a main motivator for many who choose to move to the mountain. In 2018, Signal Mountain Middle/High School boasted six National Merit Semifinalists, the most of any high school, private or public, in Hamilton County. The independent Mountain Education Foundation solicits public donations through pledge drives and annual events to help provide resources not covered by the Hamilton County Department of Education and therefore unavailable in many of the district's other schools.
Nolan Elementary (K-5)
Enrollment: 638
Proficiency (TVAAS): 3/5 overall, 3/5 in language arts, 3/5 in math, 2/5 in science
» Nolan was named a 2018 Reward School, the top distinction a school can earn in Tennessee, for improving overall student academic achievement and student growth for all students and student groups. In 2018, about 20 percent of schools in the state - including Signal Mountain Middle/High - earned Reward status.
Thrasher Elementary (K-5)
Enrollment: 567
Proficiency (TVAAS): 2/5 overall, 2/5 in language arts, 4/5 in math, 1/5 in science
» Thrasher Elementary is making further use of its 10-acre campus with an outdoor classroom.
Signal Mountain Middle/High School (6-12)
Enrollment: 1,255
Proficiency (TVAAS): 3/5 overall, 5/5 in language arts, 3/5 in math, 1/5 in science
Average ACT score: 24.7 composite
» SMMHS is part of the International Baccalaureate Program, one of only two schools in the district to offer IB. The teaching and assessment methods embraced by IB are considered best educational practices, according to the school's website. "As a school, we have made a commitment to emphasizing community and service and to encouraging our students to be active participants in both community building and community service," it reads. The school's IB personal project instructor, Kristin Robertson, was named a Southeast Region-level finalist for 2018 Tennessee Teacher of the Year. She teaches ninth-grade English at SMMHS, in addition to working with 25 students each year to complete their culminating personal project for the International Baccalaureate Middle Years program.
Source: 2018 State Report Card, HCDE
*The Tennessee Value-Added Assessment System scale runs from 1-5, with 1 denoting the least effective schools/districts and least amount of progress toward the Standard for Academic Growth.
____
Home School
Signal Mountain also has a home-school organization, and a private Christian school for kindergarten through fifth grade. Signal Mountain Christian School boasts small student-teacher ratios and shorter school days. The Christ-centered school "serves as an extension of your home to assist Christian parents in training up your children to love God's Word, develop Christian character and become equipped and motivated to impact the world for Christ," according to the school's website.
WHAT WE DO FOR FUN
Mountain Arts Community Center
One of the unique aspects of the community, this cultural haven is located in the former Signal Mountain Grammar School building, constructed in 1926. The center offers classes in dance, music, theater arts, fine arts, pottery, sculpture, weaving, yoga, tai chi and more, and is the site of several community-wide events. Following remediation for several maintenance issues, the center was expected to reopen in April 2018. 809 Kentucky Ave. Call 423-886-1959 or visit signalmacc.org.
Pumpkin Patch
Originally funded and built in 1996 by members of the community, the popular playground was renovated through donations and volunteers in 2018. Drawing families from both on and off the mountain, it now features a tepee, small slides for little ones and two large hillside slides, the "Pumpkin Patch Express" train, a gaga ball court, a small climbing wall, a lemonade stand, Lincoln Log towers to play hide and seek in, several new playhouses with creative designs, and two lounge chair-style swings. The park pavilion can be rented for parties. 1836 Taft Highway. Call 423-886-4362.
The Mountain Opry
These free Friday jam sessions welcome musicians from around the region to share toe-tapping bluegrass via informal performances and collaborations. The seats, reminiscent of those found in an old school auditorium, are often full, and audience members often clog onstage behind the performers. The opry, which celebrates its 40th anniversary in September 2019, is run by volunteers. 2501 Fairmount Pike. Call 423-886-3252.
Signal Mountain Playhouse
This community-run playhouse presents a summer and winter production each year to sold-out audiences. Summer plays are enhanced by an outdoor setting - the playhouse's hand-built amphitheater in the woods - while winter productions are held indoors at locations around the mountain. For summer 2019, the playhouse will be presenting "Annie" on weekends in July. 205-311 Rolling Way. Call 423-763-7219 or visit smph.org.
Signal Point
One of the most popular destinations for hikers across the region, the 5.8-mile out-and-back hike between Signal Point and Edward's Point offers hikers a moderate walk with scenic views of the Tennessee River Valley overlooking Williams Island and the city of Chattanooga. It also offers views of Julia Falls Overlook and Rainbow Falls in the distance. Signal Point Park also serves as the southernmost trailhead of the Cumberland Trail, which will span more than 300 miles when completed. 116 Signal Point Road.
» The town's name comes from Signal Point, which played an important role in the Civil War, serving as high ground controlled by Union troops during the siege of Chattanooga in 1863. Soldiers used Signal Point to communicate through a unique signaling system.
DETAILS
BIG EVENTS
Signal Mountain hosts several community events including a tree-lighting ceremony at Christmas, Easter egg hunts, Fourth of July and Labor Day celebrations and recognizes the National Day of Prayer.
CITY SERVICES
The Signal Mountain Town Council meets the second and fourth Mondays of each month at 6 p.m. in the Council Room at Signal Mountain Town Hall, 1111 Ridgeway Ave. The neighboring town of Walden holds its town hall meetings the second Tuesday of each month at 6:30 p.m. at Walden Town Hall, 1836 Taft Highway.
Recycling: The town of Signal Mountain has a recycle center at 1151 Ridgeway Ave. that accepts most household items, including many deemed "hazardous materials," in single-stream containers.
LOCAL LIBRARY
SIGNAL MOUNTAIN PUBLIC LIBRARY
1114 James Blvd.; 423-886-7323
Monday, Thursday: Noon to 8 p.m.
Tuesday, Wednesday: 10 a.m. to 6 p.m.
Saturday: 10 a.m. to 2 p.m.
Friday, Sunday: Closed
» Library cards are free to residents of the town of Signal Mountain, but non-residents, including those from Walden and unincorporated parts of the mountain, may purchase an annual family membership. In early 2019, the library began raising funds for an expansion that will include an elevator needed for disabled and older patrons, and a quieter reading room for people to study and conduct research.
GET INVOLVED
The Signal Mountain Community Guild serves as a social and service organization for those in the community. The club began in 1928 and eventually formed a Newcomers Committee, which has since been folded back into the guild. The organization has monthly meetings, lunches, Ladies Nights, a book club and craft nights. There are no dues.
Several other clubs and community organizations meet on the mountain, including the Mountain Gardeners, Lions Club, Mothers of Preschoolers, and more.