Photo Gallery
Diversity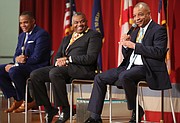 When Robert Gardner was applying for an engineering job in his hometown of Springfield, Tennessee three decades ago, the young black engineering graduate thought he would drop off his resume and hear about a job interview later.
But then Springfield Electric Manager Ralph Jerrell agreed to an on-the-spot interview that began with a gruff question - "What do you want?"
Gardner recalls Jerrell as "an old school, my-way or the highway" kind of manager, but he ended up talking with Jerrell for four hours that day. A job offer didn't come until six months later, but Gardner said Jerrell ultimately proved to be one of his mentors and recommended him as his successor in 1994 to become the first black head of a TVA distributor in history.
"I realized that I had initially prejudged Mr. Jerrell, thinking he might be a racist based upon the way he looked. But he taught me a great deal about TVA, the industry and the need not to prejudge anyone and he opened doors for me that I didn't think I was ready to walk through," Gardner said Friday during a panel discussion during a Black History Month event at the power headquarter of the Tennessee Valley Authority.
Gardner, who has served as the first African American to head a local power company in the Tennessee Valley for the past 25 years, said he initially tried to follow the authoritative management style of his predecessor. But over time, the Springfield Electric director said he has learned that the key to management is focusing on the people, not just the job.
Gardner, who also serves as pastor of the City of Faith Church International in Springfield, said he learned "you can't be a bad pastor and good manager.
"You have to care about your people first," he said.
Over the past five years, other black leaders have been hired to head TVA's two biggest local power companies - Nashville Electric Service CEO Decosta Jenkins in 2004 and Memphis Light Gas and Water President J.T. Young last year. During a presentation to the East Tennessee chapter of the American Association of Blacks in Energy (AABE), Jenkins and Young echoed Gardner's comments on the importance of people-based leadership.
Young, who heads TVA's biggest customer in Memphis and was praised Friday by TVA Director Ron Walter as one who's initials could stand for "Just Terrific," said management is about understanding and motivating people within your organization, which includes about 2,800 employees at MLGW.
Jenkins, who has headed TVA's second biggest customer in Nashville for the past five years, is the top boss of 1,000 employees who he credits for the success of building one of the top municipal utilities in the country. Jenkins, who calls himself of "recovering certified public accountant" and also earned an associate's degree in engineering, is the incoming chairman of the American Public Power Association.
But for all of their success, Jenkins, Young and Gardner remain the only three top managers among TVA's 154 local power companies that distribute TVA electricity across the 7-state region.
Nationwide, a 2017 Department of Energy analysis of the 6.4 million Americans who work in energy and related fields found only between 8-12 percent are black and only 22-34 percent are women, depending upon the field and specific business.
Walter, only the third black to be named to the TVA board in its 81-year history, said TVA helped provide jobs and equal pay for minorities during its early years in the 1930s when most businesses paid black workers less than their white counterparts. But despite such efforts and TVA's ongoing goals of greater staff and supplier diversity, the energy field remains disproportionately male and white.
The last five appointees to the TVA board by President Trump have been white males, leaving Walter as the lone African American remaining on what is designated as a 9-member panel. (Two current slots are vacant).
"I think a good board is diverse, but that's not something I can't control," Walter said, noting that his two black predecessors appointed by Presidents Bush and Obama - Bishop William Graves and Lynn Evans - rotated off the board in the past six years.
TVA makes its electricity service stronger and more reliable with a diversity of generation and Walter said the same thing is true with its staff and leadership being better with more diversity.
Jenkins said TVA distributors are working to both employ more women and minority workers and to use more female- and minority-owned businesses as suppliers. One of the biggest opportunities -and challenges - is to entice more women and minorities into electrician, lineman and other technical jobs.
"But unfortunately, too many people of color don't know people in that field so we need to do more outreach," he said.
Young praised the celebration of Black History Month during February, but he urged AABE members to push for "black futures" to taking steps to help other people of color to succeed in the energy industry.
Contact Dave Flessner at dflessner@timesfreepress.com or at 757-6340.