Photo Gallery
Abandoned manufactured homes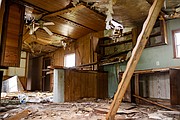 A new Georgia law is supposed to solve the free-for-all, Wild West problems of old manufactured homes. But so far, there has not been much movement locally.
The new law, which took effect May 1, creates a process for land owners to move or sell houses that sit on their property. The issue seems simple, on the surface. But for years, property owners complained about beat-up manufactured homes left on their land.
To move or sell or rent a manufactured home, you need a title for it. Purchasing property with a home on it does not automatically give you the title. You must get it directly from the previous homeowner. Land can change hands dozens of times without a title change, leaving the latest property owner with no option.
"A lot of [homes] have been abandoned," said Walker County Tax Commissioner Carolyn Walker. "And yet, they don't own them. They can't legally move them out or destroy them."
Now, a property owner can contact a county inspector. If the inspector determines the home is derelict, the property owner has to post a notice on the home and contact any interested parties, such as previous title owners. If the land owner can't find interested parties, they have to advertise a court hearing in the local newspaper for at least two weeks.
If no one shows up to contest the property owner's request at a hearing, a magistrate judge will give the owner the right to the home. They then have 180 days to haul the home off their property and destroy it.
There is another scenario in which the county inspector determines the home is still intact enough to sell or rent. The magistrate judge can grant the property owner a lien on the home, demanding the home's title holder pay lot rent they've ignored thus far. The property owner can then file notice of foreclosure. If the home's title owner doesn't make payment, the judge can order the property owner to sell the home at a public auction.
If no one bids the amount the title holder owes, the property owner can keep the home. They get the title, allowing them to do with the home what they want.
There are about 4,370 manufactured homes in Walker County, according to the property appraiser's office. But Walker County Magistrate Court Civil Clerk Susan Rains told the Times Free Press no one has applied to move or destroy a manufactured home since the law changed. Joe Gribble, the Whitfield County employee appointed to review cases there, said he has yet to receive a request to inspect a manufactured home.
"Not as of yet," he said.
Walker County spokesman Joe Legge and County Attorney Matt Williamson said Tom Lackey, who owns multiple manufactured home communities in North Georgia, will pursue this route at some point. Lackey met with Commissioner Shannon Whitfield about a month ago, they said, to talk about a couple of issues. The law change was one of them. (Lackey did not return multiple calls seeking comment last week.)
Walker said the title problem can be particularly pronounced in these communities, which hold dozens of homes. When a park transfers hands, the old owner is supposed to transfer the title on each home to the new owner. They don't always complete the paperwork.
On top of that, some specific homes were owned by tenants - not the park owners. Some of those tenants have since moved on, leaving the homes behind and giving no thought to the title. The homes just sit in the park. (Or the park owner rents or sells the home without a legal right to do so. Tonya Evans told the Times Free Press last year she bought a home from Lackey for about $16,000 in 2016, only to find out two years later that Lackey didn't have title to the home. The home is still listed under a previous park owner's name.)
At Stoney Pointe Mobile Home Park on Schmitt Road in Rossville, which Lackey purchased in 2014, 38 of 66 homes are titled in the name of the park or one of his companies. The other 28 are listed in other people's names, according to the property appraiser.
At Blue Ridge Estates, another one of his parks across the street, 13 of 25 listed homes are titled in the name of one of Lackey's companies, according to the property appraiser. The other 12 are in other people's names.
Walker said property owners in Lackey's position had one other option before the law changed. They could get a bonded title. This required them to pay an insurance company twice the home's value. The company would give the land owner a bond, which they would provide the county, which the county would send to the state as part of a title application.
"That's expensive," Walker said. "Most of them would not follow through with that."
Depending on what part of the state you lived in, there were other options. Worth County Tax Commissioner Tabetha Dupriest said some local governments treated abandoned manufactured homes like abandoned cars. There was already a legal process in place for property owners in those situations, but it wasn't clear if this was exactly legal.
Said Jay Hamilton, executive director of the Georgia Manufactured Housing Association: "Every county sheriff and every county judge and every county tax commissioner handled it a little bit differently. You had to operate by how that county tax commissioner and that judge wanted you to."
Dupriest said other counties enforced building codes, shuttering and seizing manufactured homes that were dangerous or just eyesores. This was a solid solution, given that most of those run-down homes were abandoned. (Though these methods also can lead to the eviction of low-income renters.)
Auctions have been another ineffective solution. Because the previous owner stops paying taxes, the tax commissioner can put the manufactured home up for sale in front of the courthouse. But few people want to bid. Buying the home means paying the back taxes - sometimes, a price higher than the home's value.
Micheal Ledford, owner of Dixieland Mobile Home Movers in Calhoun, said some land owners pursued other murky routes. Some simply asked movers to haul homes away, not worried about who held the title or whether the move was legal. Others pursued a write of possession through magistrate court.
This is usually a process that landlords use to kick out tenants who don't pay rent. But instead, he said, some judges treated the homes like renters.
"It's like you're evicting someone out of the house," he said. "The eviction notice is for the home to get off your property."
Dupriest said she heard of people using this process. But, she added, "In all reality, they really don't have the right to move the mobile home. They need a title. They don't have a title."
Contact Tyler Jett at 423-757-6476 or tjett@timesfreepress.com. Follow him on Twitter @LetsJett.