Photo Gallery
Abandoned manufactured homes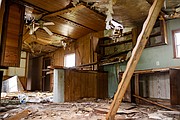 A new Georgia law is supposed to solve the free-for-all, Wild West problems of old manufactured homes. But so far, there has not been much movement locally.
The new law, which took effect May 1, creates a process for land owners to move or sell houses that sit on their property. The issue seems simple, on the surface. But for years, property owners complained about beat-up manufactured homes left on their land.
To move or sell or rent a manufactured home, you need a title for it. Purchasing property with a home on it does not automatically give you the title. You must get it directly from the previous homeowner. Land can change hands dozens of times without a title change, leaving the latest property owner with no option.
"A