Photo Gallery
I-75/I-24 'Split' work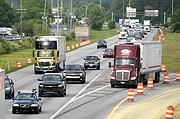 More Info
'SPLIT' FAST FACTSA study by the Road Safety Audit Review program in 2006 found:* The crash ratio at 5.75 at the Interstate 75/Interstate 24 interchange far exceeded the minimum threshold of 3.5* Truck rollovers are common both northbound and southbound on I-75* There are a high number of rear-end and sideswipe crashes on northbound I-75 due to short merging distances between exit 1 and the Split* Welcome Center on-ramps and off-ramps also contribute to crashesSource: Interstate Access Request Interstate 75 at Interstate 24, TDOT June 2012
Orange barrels are piling up at "the Split" as preliminary work begins on a $132.5 million project to rebuild the Interstate 75/Interstate 24 interchange at the Tennessee-Georgia state line.
As summer shifts into high gear, motorists will see equipment and construction materials like dirt and gravel arriving at the site. An estimated 124,000 vehicles a day travel the Split, which is known for its daily backups, outdated merge lanes and frequent crashes.
"The project is just starting," Jennifer Flynn, spokeswoman for the Tennessee Department of Transportation, said in an email. "Heavy construction will start in late fall 2019 and continue until the project completion in the summer of 2021."
C.W. Matthews Contracting Co., Inc. of Marietta, Georgia, is the contractor on the project.
Flynn said workers now are surveying, checking the locations of utilities and building a road to an area where they will stockpile materials.
Construction of the new 5,500-seat Chattanooga Red Wolves Soccer Club stadium in East Ridge appears to be planned to happen simultaneously with work on the interchange. Preliminary plans show a pedestrian walkway along Spring Creek passing underneath the two interstate bridges over Spring Creek, but otherwise that work is contained to land on either side of the interstate.
"They are two totally independent projects," Flynn said. "TDOT's project should not have any impact on the arena project."
TDOT will coordinate with the city of East Ridge during the projects, she said.
On April 1 a concrete railing at the Split fell from a 1959-era southbound I-75 overpass bridge onto the traffic lanes below. A car headed west on I-24 below crashed into the concrete, injuring the driver. Though the rail collapse was caused by a truck strike, the incident renewed attention on the need to rebuild the decades-old interchange.
The long-awaited project to rebuild the interchange was part of former Gov. Bill Haslam's IMPROVE Act, which included infrastructure investments for 101 individual projects in 40 Tennessee counties.
Haslam said at a June 2017 news conference at the nearby Welcome Center that IMPROVE Act funds allowed the rebuilding project to go "from being improved in seven-to-10 years from now to hopefully being started as part of fiscal '18 work."
The contract was awarded in December 2018.
Cleveland, Tennessee, resident John Thomas has hit the split around 7:45 a.m. every weekday for the last 15 years en route to his job off 23rd Street.
"It's worse in the morning because I'm going into town," said Thomas, 49. "It's way worse when it rains.
"And it's worse when school is in [session]," he said.
Thomas said he's happy to see improvements, though he dreads coming years of orange barrels and delays.
"I know what happened in Ooltewah, and I drove through that," he said. "Ooltewah was always another choke point.
"I know after they fixed that, it was 100% better. You zip right through now," Thomas said.
"I'm just happy to see them doing something."
Over the past five decades, state and local officials on several occasions sought a fix for the problems at the interchange, according to Times Free Press archives. The design of I-24 where it passed through the East Ridge and Brainerd area drew fire in the mid-1960s when community leaders marched on City Hall to protest plans to exclude on-ramps and off-ramps. The remedy ended in the design there now that includes North Terrace and South Terrace roads, which funnel traffic in and out of the communities mostly via Moore Road, which was widened to four lanes in 1969 to carry the increased traffic.
Aside from the interchange work, the project includes new, longer bridges over I-24 at Spring Creek, McBrien and Moore roads so additional traffic lanes can pass under them.
A C.W. Matthews official said Thursday that the company is contractually barred from commenting publicly on the project. The company website lists a string of major Georgia projects Matthews has underway or has recently completed, including several at Hartsfield-Jackson International Airport and the rebuilding of an Interstate 85 bridge in Atlanta that collapsed from a large fire in 2017.
As the rebuilding project speeds up, motorists will see more orange barrels, lane closures and backups.
TDOT officials say there will be nighttime lane closures throughout the life of the project, and the contractor is allowed four weekend closures on interstate ramps and six weekend closures of Spring Creek Road during the project.
The transportation department will notify the public ahead of the closures, officials said.
Contact staff writer Ben Benton at bbenton@timesfreepress.com or 423-757-6569. Follow him on Twitter @BenBenton or at www.facebook.com/benbenton1.