Photo Gallery
East Ridge vs. Hixson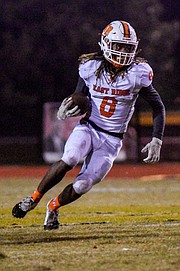 East Ridge football coach Tim James wore a smile as he stroked his chin late Friday night.
He had reason to be happy after giving a postgame speech to the team that won its regular-season finale on the road to secure Region 2-4A's fourth and final spot in the playoffs.
The Pioneers beat Hixson 36-20 and now turn their attention to next week's first-round game at undefeated Elizabethton, the Region 1 champion.
"I'm proud of our team and happy for our seniors - the way they fought and bought in to our process after a losing season last year," said James, whose team is 6-4 and guaranteed of avoiding that fate this year. "The turnaround speaks highly of our kids."
Smash-mouth football marked the first half, and Hixson (2-8) scored on its first possession as quarterback Richard Hunter's sneak on fourth-and-1 took him into the end zone.
Explosive runs helped East Ridge break through, with Jamii Bowman's 11-yard end-around dash and a 2-point run by Keanu Johnson resulting in an 8-7 lead. The Wildcats answered with another Hunter keeper for a touchdown to go up 13-8, though their try for two points failed.
Deep in Hixson territory and knowing the ball was coming back to them after halftime, the Pioneers went for it on fourth-and-13. Cameron Sanders rolled right but threw across the backfield to Jaylen Boykin on a screen pass for a 30-yard touchdown, and another 2-point conversion gave East Ridge a 16-13 lead at halftime.
The Pioneers fumbled on the first play of their first two possessions after halftime. The second one occurred on their 1-yard line, and the turnover allowed the Wildcats to set up yet another keeper by Hunter to give Hixson a 20-16 lead.
The Pioneers settled in after that, though, and used more big plays to pull ahead with three touchdowns in the fourth quarter: Sanders' 20-yard option-read keeper, a 78-yard run by Bowman and a 2-yarder by Boykin.
"I tip my hat to Hixson; they took advantage of some of the opportunities we provided to them," James said. "I feel very fortunate to come out of here with a win. They'd been getting better every week, but so have we. We've just got to clean up the unforced turnovers."
Contact Justin Dempsey at [email protected].