Photo Gallery
Toxic lead exposure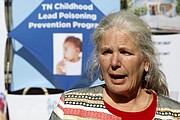 A new "Lead Education Station" in the Southside Branch of Chattanooga's Public Library aims to inform and connect residents in a high-risk area for toxic lead contamination to resources.
Lead poisoning, considered to be the top environmental threat to children's health, can come from a variety of sources, including homes, water, soil and some workplaces. It's less of a threat for adults, but about 1 out of 11 children between the ages of 1 and 5 may have harmful levels of lead in their blood, according to the Tennessee Department of Health. Blood testing is the only way to know the level, and there is no safe level of lead exposure.
Older homes are a leading source of lead exposure in children, because they may contain lead-based paints. Although lead paint was outlawed in 1978, it persists in older homes and can crack, peel or break down into dust, both inside and outside. Children become exposed when they put things into their mouths that are contaminated with lead paint particles.
Southside Lead Superfund Site Update
* When: Monday, Oct. 28, 6-8 p.m.* Where: Bethlehem Center, 200 W. 38th St., Chattanooga* Why: Officials will answer questions and provide results for properties previously sampled. Access agreements for sampling and cleanup will be available for residents and homeowners to sign.
Patrick Wallace brought his girlfriend's son, 4-year-old Fletcher Grosso, to a Lead Education Station kickoff event Wednesday so that he could be screened for possible lead exposure. Wallace said Fletcher's mother was concerned after learning that their home, which was built in 1901, was a potential hazard. Researchers from the University of Tennessee at Chattanooga pricked Fletcher's finger and ran a blood sample through a mobile unit. Within 3 minutes, they informed Wallace that the sample contained enough lead to warrant follow-up testing.
"Honestly, I'm not surprised with the area, especially with all the older homes," Wallace said. "[His mother] definitely wanted him tested. It's a good thing we checked this out."
The new station is located in nearby Alton Park - one of the eight neighborhoods with properties within Chattanooga's Southside Lead Superfund Site, which was flagged due to toxic levels of lead in the soil. Other Chattanooga neighborhoods in the site are Cowart Place, East Lake, Highland Park, Jefferson Heights, Oak Grove, Richmond and Southside Gardens.
"We are excited to bring this resource to the communities where it is needed the most," said health department Lead Poisoning Prevention Program manager Maranda Clark in a news release. "We hope the Lead Education Station leads to safer homes, safer children, and safer communities."
The station will offer both internet resources and hard copies of information. Its dedicated computer will feature a new lead poisoning and prevention website created by the University of Tennessee Agricultural Extension Service. A part-time staff person will be available to assist patrons.
Lead poisoning rarely shows symptoms but can cause lifelong damage to the brain and nervous system. Possible effects include problems with growth, development, learning, behavior, hearing and speech. These can cause lower IQ, decreased attention spans and poor performance in school.
According to Hamilton County assessor of property records, 55% of the residential and rental structures in Hamilton County were built before 1978 - when lead paint was outlawed. The Environmental Protection Agency says only certain home testing kits are reliable, and removing lead improperly can increase the hazard to your family.
The city of Chattanooga administers a Lead-Based Paint Hazard Control Program that provides grant funding to certain low-income families living in homes built before 1978 within the city's ZIP codes. The funding helps remediate deteriorating, peeling and chipping, lead-based paint in homes where children may live, visit or play. Residents can apply by calling 423-643-7344.
Other possible sources of lead poisoning could include old lead water supply pipes, parents' work places, toys, folk remedies, imported or old furniture, hobby supplies such as stained glass, lead crystal, lead glazed pottery or porcelain or even the air.
Any child can be exposed to lead. Even those living in newer residences could be regularly exposed through sources outside the home. Parents can request a free blood test from the health department for children under 7 years of age.
For more information, residents can visit the Chattanooga-Hamilton County Health Department Childhood Lead Poisoning Prevention Program webpage, or call 423-209-8080.
Contact Elizabeth Fite at efite@timesfreepress.com or 423-757-6673.