(UPDATE: Hamilton County schools opening on a two-hour delay Friday)
The National Weather Service has issued a flood warning until 5:30 a.m. EST Friday for the following counties: Hamilton, Marion, Meigs, Bledsoe, Rhea and Sequatchie counties. Western Bradley, central Loudon and Roanecounties are also in a flood warning.
A flood warning is in effect until further notice for Catoosa, Murray, Floyd, Whitfield, Walker, Gordon, Dade and Chattooga counties in Georgia.
Chattanooga had seen roughly 4.5 inches of rain as of Thursday afternoon, according to WRCB. Cleveland, Athens and Dayton have seen over 5 inches of rain.
The area could see flurries Friday or Saturday as the temperature drops, but Sunday's forecast is partly sunny with a high of 60, according to WRCB.
Photo Gallery
Flooding in Chattanooga area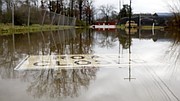 (Read more: The latest business and school closings and delays Friday in the Chattanooga area)
According to NWS, recent heavy rainfall has also caused significant runoff into streams and rivers, which will cause more flooding.
The Hamilton County Parks and Recreation Department has announced that the trail behind the Raceway, all piers and boat ramps are closed due to flooding, according to a news release.
The Marsh overlook to the back parking lot at the Marsh and the Rowing Center Boardwalk to the Water Company are also closed due to flooding, according to the Parks and Recreation Department.
This is a developing story. Stay with the Times Free Press for updates.