It took exactly one inning for Baylor's softball team to respond to its first loss of the season. Technically less than that as the first three batters reached base and scored to put the Lady Red Raiders in command early in an eventual 11-1 six-inning win at Soddy-Daisy Monday.
After opening the season with 18 consecutive wins, Baylor lost to Hazelgreen (Ala.) in Friday's opening round of the Coffee County Classic. In that loss the Lady Red Raiders carried a no-hitter and a 3-0 lead into the sixth before giving up four runs to have their winning streak snapped.
The rest of the tournament was rained out, which left Baylor coach Kelli Smith and her team to stew over a loss for two days.
"Losing that game was a good lesson for us," Smith said. "This is still a tough team to read because we're so young, but it was good to see how they came back and fought right away today. We got contributions from a lot of different players in the lineup, which was also good to see."
After Morgan Sharpe led off Monday's game with a double and scored on a throwing error which allowed Addi Yates to reach base, Acelynn Sellers drilled her eighth home run of the season for a commanding 3-0 lead before an out had been recorded.
Photo Gallery
Baylor at Soddy-Daisy softball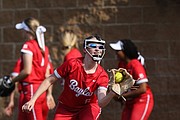 Sellers, a UTC signee who is batting .556 this season, later added a three-run double and Syd Berzon tossed a two-hitter for the win. Sharpe went 2-for-4 with a solo home run, Yates also added a homer and Kaylee Snyder was 2-for-3 with two doubles and an RBI.
"We talked to the girls after the loss about how we've never gone undefeated in any of our state championship seasons, so our main goal is still there," said Smith, whose program will be going for its sixth straight Division II-AA state title - and ninth in 10 years - at this year's Spring Fling.
"To come out and hit and score the way we did in the first inning, that puts us in a comfortable situation early," Smith added. "But a lot of times you can have a big start and then hit cruise control, which is what cost us in the loss, so I was proud of the way we kept getting after it today."
Contact Stephen Hargis at [email protected] or 423-757-6293. Follow him on Twitter @StephenHargis.