At the rate both the Lakeview-Fort Oglethorpe girls and McCallie's boys' basketball teams are going, both schools may need to clear some room in the trophy shelf.
Both claimed their respective championships in the annual Times Free Press Best of Preps tournament Wednesday at East Hamilton High School, and each also looks to have the needed ingredients to challenge for even more hardware once the postseason rolls around.
McCallie built a double-digit lead in the first half, then held off a furious fourth-quarter rally by Tyner to claim a 56-51 win. The outcome in the girls' title game was never in doubt as LFO dominated from start to finish in beating Meigs County 84-42.
After scoring 10 of the game's first 12 points, McCallie (15-1) had a double-digit lead late in the opening quarter and extended it to as much as 14 early in the second. But the Rams closed the gap in the fourth, pulling to within five midway through the period but never able to get closer than four as the Blue Tornado connected on four of six free throws in the final 25 seconds.
(READ MORE: Final scores and photos from Wednesday's Best of Preps basketball tournament)
McCallie 7-foot-2 senior David Craig earned tournament MVP honors and finished with 11 points, while Milos Stijepovic led the Blue Tornado with 13 and Parker Robinson added 12. Rodney Henderson led a balanced Tyner scoring attack with 16 points, while Josh Jackson finished with 15 and Nehemiah Bloodsaw 14.
"I think this shows how resilient we are, to play as well as we did over the three days of the tournament," Craig said. "Especially on the defensive end, we showed what we are capable of. If we can continue to play defense that way we will be tough.
"We expected Tyner to keep fighting and give us a great game because those guys are really good and well coached. We just had to stay composed and make the right plays when we needed to."
One year after a winless season, LFO is unbeaten and an undeniable postseason threat thanks to a deep roster loaded with sharp-shooting guards and an up-tempo style that puts constant pressure on opponents.
The Lady Warriors (13-0), who outscored their three BOP tourney opponents by an average of 41 points, scored 13 of the first 15 points in the title game and had built a double-digit lead before the opening quarter ended.
Photo Gallery
Three Rivers 03/29/07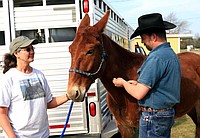 "The challenge we want to give folks is to jump on them early," LFO coach Dewayne Watkins said. "We're still learning to be focused from the start to finish but we're getting better at it.
"This means a lot to our players and to me. We've been coming to this tournament for several years as a program but never won it until now so this feels good."
Junior guard Angel Simmons, who finished with 28 points, including four 3-pointers, was named the tournament MVP, while Christen Collins added 27 points, connecting on six 3-pointers as LFO made 15 from long distance.
"We're fortunate to be able to play a lot of players, but what Angel brings to us, defensively first, is just amazing," Watkins added. "I never like having to take her off the court and she's such a competitor that she doesn't like having to come off the floor either."
Contact Stephen Hargis at shargis@timesfreepress.com or 423-757-6293. Follow him on Twitter @StephenHargis.