Authorities in Grundy County, Tennessee, are looking for three men who got away in two separate vehicles Tuesday night after robbing a Dollar General Store at gunpoint. They escaped with loaded gift cards and cash.
The men entered the store in the town of Pelham at 9:04 p.m. CST with their faces covered, reads a statement from Sheriff Clint Shrum. The store is on U.S. Highway 64 just off Interstate 24 at exit 127.
Shrum said one of the three men pointed a handgun at the cashier's head and asked for the manager. When the manager appeared, the men demanded the gift cards and cash, he said.
"The suspects fled eastbound on the interstate [I-24] in two different vehicles," Shrum said. "One was maroon in color and the other was blue."
Two of the men are described as Black and the third was said to be of "unknown ethnicity," officials said. Shrum believes the suspects are not local men.
Photo Gallery
Daily Photos 04/01/08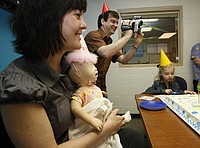 Investigators are working to obtain surveillance video of the incident, he said.
Anyone who saw the two vehicles at the store Tuesday night or who knows any information about the suspects is urged to call Capt. Larry Sims at 931-692-3466, extension 5.
-compiled by Ben Benton