Chattanooga's economic recovery from the coronavirus pandemic is getting a boost from a new loan program designed to aid the start up and growth of minority-owned entrepreneurs and growing businesses in low-income parts of Hamilton County.
Tennessee's biggest nonprofit community development financial institution is reopening an office in Chattanooga as part of a new $7.5 million lending program to help diversify and grow Chattanooga's small business sector as the economy rebounds this year. Pathway Lending, a Nashville-based lending firm that has grown to more than $200 million in assets, is targeting Chattanooga small businesses in underserved communities with a loan and business assistance program funded by three regional banks, five local foundations and a private investment firm.
"This is the first time in our 21-year history where we've seen foundations, banks and the community really come together to help promote entrepreneurship," said Clint Gwin, president and CEO or Pathway Lending.
The new initiative is targeting making at least 40% of its loans to minority-owned businesses, nearly triple the current statewide average for small businesses owned by people of color.
Photo Gallery
Pathways Lending expands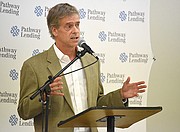 Pathway Lending uses both its business assistance and access to capital to broaden lending programs to more low-income communities and to serve more persons of color under its slogan "No opportunity missed." The lending program has succeeded so far in limiting loan losses to only about 1.8% even though it specializes in non-collaterized loans that most bank or even the Small Business Administration will not make.
"We're one of the few places where capital and capacity building come together," Gwin said. "We will be working with our ecosystem partners here like Co.Lab, the Urban League, LaunchTN and others and we also have a group of advisers on our team that go in an work with our entrepreneurs one-on-one as part of the transaction to give them the resources that they probably haven't been able access before."
But for all the success of Pathway Lending since its start in 1999, even Gwin concedes he was challenged when former LaunchTN CEO Charlie Brock Director asked him to expand into Chattanooga just as the pandemic was shutting down the economy in March 2020. Pathway Lending had once had an office when the city of Chattanooga supported the effort under then Mayor Bob Corker, and Brock went to work last year gathering investors and supporters for a return of Pathway Lending to Chattanooga.
Pinnacle Bank, which Brock serves on as a board member, pledged $5 million to the loan fund and First Horizon and Region Banks committed another $1.25 million each while Pointer Management Co. also is supporting the loan pool with the first such investment ever by a private equity firm of its type. The operation of the new initiative is being backed by grants from The Benwood, Bobby Stone, Footprint and Lyndhurst Foundations in Chattanooga and the JPMorgan Chase Foundation.
"The path to shared prosperity and an equitable recovery in Tennessee runs through our small businesses," said Craig Holley, Pinnacle's Chattanooga chairman.
Michael Mathis, market president for Regions Bank in Chattanooga, said the loan program is needed to aid hard-hit businesses coming out of the pandemic and the fund should help assist underserved parts of the economy to grow again with new and expanding businesses.
Gwin said the racial wealth gap in America often makes it harder for people of color to have home equity or friends and family members to support their startup efforts. Pathway Lending helps offset such disparities and grow businesses into successful ventures that then qualify for traditional bank loans and other outside investments.
"Now more than ever, it's important to have funding in place to meet needs and grow efforts to support the vision of small business owners and entrepreneurs, and there's simply no better place than Chattanooga to make that happen," said Jay Dale, the Chattanooga market president for First Horizon.
The investing banks get Community Reinvestment Act credit for their loans to Pathway Lending as well as franchise and excise tax advantages that Tennessee adopted under former Gov. Phil Bredesen to encourage banks to use their capital to aid businesses in underserved areas.
Brock said Pathway Lending has been one of the most successful of the 17 CDFIs in Tennessee because of its track record working with its borrowers.
Chatter Box, a barbecue eatery started by Brandon Ellis on Shallowford Road, got a $50,000 loan last month from Pathway Lending to buy a new truck to haul his trailers with for his catering business,
"We were able to triple our revenues last year when a lot of restaurants were closed and we're hoping this addition will help us grow even more this year," Ellis said.
Chattanooga Mayor Tim Kelly, who praised the new program Wednesday during a kickoff of the new lending initiative, said he hopes the city can also support Pathway Lending to help further expand its lending.
"Pathway brings a huge new toolbox to the Chattanooga market," Kelly said. "Our CDFI funding has been lacking and, as we all know, small businesses face huge headwinds coming out of this pandemic, particularly in communities of color that have been hardest hit. This is going to be critically important and we want to do what we can to make this successful."
The loans by Pathway Lending will range from $5,000 up to as much as $3 million, although most are under $250,000.
The new Chattanooga office in the Edney building in Chattanooga's downtown Innovation District will be staffed by Quentin Lawrence, vice president of lending, and Katie Hendrix, vice president of stakeholder and client development.
Contact Dave Flessner at dflessner@timesfreepress.com or at 423-757-6340