The dream of homeownership may still be the vision for most Americans, but that dream is no longer immediately possible or wanted by a growing number of residents who are not yet ready to buy in a market or may want to give up the maintenance chores of owning a home.
An increasing number of American families are choosing to rent, rather than buy, their home and a new subdivision taking shape in Red Bank is designed to meet that need.
Known as Julia's Park, the 34-home development is Chattanooga's first individually-platted, single-family rental neighborhood. The developers of the $9.5 million subdivision off of Delashmitt Road say it is the first of at least four such rental neighborhoods they plan to erect in the Chattanooga area and among at least eight they are developing in Tennessee and Texas.
RoseRock, a Bryan College, Texas-based developer of both commercial and residential properties, has created a new business unit to construct the new rental subdivisions of single-family homes to offer a neighborhood community to those wanting to rent their homes.
"We seek to create unique communities in vibrant cities with thoughtfully curated neighborhoods for our residents," said John Jordan, CEO of the RoseRock. "The more we have gotten to know the Chattanooga market, the more excited we have become about growing a portfolio here and meeting a vital need in this beautiful community."
RoseRock has joined with Chattanooga home builder Ethan Collier and a local rental management company, Generation Property Management, to develop the new rental housing for those wanting to lease new single-family homes.
Unlike the apartment complexes, condominiums or scattered single-family rental houses where most Chattanooga renters now reside, Julia's Park and the other subdivisions planned by RoseRock will offer a neighborhood attraction with sidewalks, front porches and nearby walking trails. Julia's Park offers nine different designs to accommodate different family sizes and living arrangements, but each of the homes is a detached single-family residence with its own garage and yard. Unlike homeownership, the landlord will be responsible for major home maintenance, including the mowing of the lawn.
Jordan said the rental neighborhoods are filling a need for many families that may be relocating to a new community and want to build a new home or want to rent for a while searching to find a house to buy. Others may simply want the convenience of maintenance-free living, especially if they are using the home as a second residence.
"We began studying the demographic and market trends a couple of years ago and saw a real void in the market," Jordan said.
Photo Gallery
Red Bank subdivision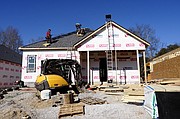 The development reflects the changing nature of home ownership and renting in America. The share of households buying or owning their own home fell in 2016 to a 50-year low of under 63%. Although home ownership has increased since, it remains below the levels of most of the past three decades with only 65.8% of Americans living in homes they are buying or own in 2020, according to the U.S. Bureau of Census.
The changing buying and rental habits of families have led to the building of tens of thousands of rental units in the United States. A California developer, American Homes 4 Rent, built 53,544 single-family homes for rent in 22 states by the end of 2020 and the company continues to expand.
"The single-family rental asset class is incredibly hot around the country and is one that appears to have a strong future," said Doug Fisher, executive director for the Home Builders Association of Greater Chattanooga. "I expect to see more of this product being created in our market in the future."
Construction began on Julia's Park last summer and the first tenants are now moving into the neighborhood. By building all 34 homes at one time, Collier said the houses can be built more efficiently and those living in the new neighborhood won't have to worry about homes continuing to be under construction in their subdivision for years as is typical in many developments where builders build as homes are sold.
The developers said they have plowed those building savings into extra finishes and amenities in Julia's Park.
"The finishes in many of these houses are on par with any $400,000 house," Collier said.
Julia's Park is especially personal for Collier whose company, Chattanooga-based Collier Construction, is building the neighborhood.
"Julia's Park is named after my daughter and its two streets, Stunner Lane and Strong Avenue are two characteristics that describe her well," said Collier. "The opportunity to partner with RoseRock and Generation Property Management in bringing this new concept to Chattanooga has been a great experience, and I couldn't be prouder of the community we are creating that will bear my daughter's name."
Each of the 34 houses is completely detached and individually-platted, offering lease-holders privacy and the comfort of their own home. Monthly rental rates start at $2,150 per month and include lawn care, exterior maintenance and pest control.
All homes have been pre-wired for EPB internet service and contain a centrally located communications box and dual CAT-5E outlets in each living space. Residents will have their own EPB landing page, unique to Julia's Park, where they can establish services and take advantage of special bundling packages and EPB Smart Network and Smart Home offerings.
"I wish we had EPB in all of the markets where we are building," Jordan said.
Todd Womack, a principal at Chattanooga-based Generation Property Management who has been involved with renting local homes for decades, helped convince RoseRock to come to Chattanooga due to the growing demand for leased homes and the rising costs for both homeownership and home rental rates.
"As Chattanooga continues to grow and attract families who can work from anywhere in the country, we are seeing that well-designed and well-managed single-family inventory is in tremendous demand," Womack said. "In creating Julia's Park, we have tried to anticipate every need our renters will have and offer services that allow them to enjoy their families and live their lives while we take care of the details of home."
Contact Dave Flessner at dflessner@timesfreepress.com or at 757-6340
About Julia's Park
Location: 4701 Delashmitt Road in Red Bank Size: 34 homes Investment: $9.5 million Home sizes: 1,500-1,700 square foot homes, including 3-bedroom and 2 baths, 4- bedroom and 2 baths, 4-bedroom and 2 and a half baths, and 4-bedroom and 3 and a half baths. Rents: Monthly rental rates start at $2,150 per month and include lawn care, exterior maintenance and pest control. Developers: RoseRock, Generation Property Management and Collier Construction Name: Julia's Park is named after builder Ethan Collier's daughter Schedule: Construction began in the third quarter of 2020 and the first units are now being leased